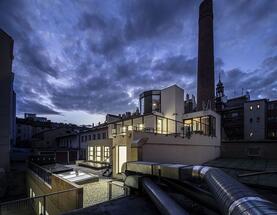 The Czech company Six Dots Entertainment Group is a leader in the field of ticketing business - it includes the brands Ticketstream , Ticketon , Bohemia Ticket and I nformuji.cz . The founder of Six Dots Entertainment Group Viktor Mastnik was looking for space for his new headquarters that would be beyond the usual idea of ​​offices - and just revitalized building of the former sausage factory in Nusle, which has been changing rapidly in recent years, proved ideal.
"For me, the inspiring work environment is one of the most important things in business. When I first saw these sensitively renovated premises and got acquainted with the history of the building and also with the architect Patrik Hoffman, the first good decision was made, " says the new tenant of the building. "Mr. Mastník impressed the building not only with its convenient location in Prague 4, which it preferred to other administrative locations, but also with its atmosphere and a truly original concept. The cooperation has been running smoothly since the beginning, " adds Karin Konrádová of Svoboda & Williams to the transaction .
Six Dots Entertainment Group headquarters - interior
Renowned architect Patrik Hoffman interconnected industrial genius loci with modern architecture. The combination of concrete, glass, metal, blue-colored tiles and the unique play of light and shadow created by new window openings and skylights. The dominant feature underlining the factory character of the entire building is the original 20-meter chimney - and his space Hoffman used and transformed it into an original smoking room . Thanks to a carefully revitalized building, the four-storey building has retained its authenticity and spirit. Its peculiar appearance will remind us of the times in which the then smoked meat empire was an important place in the Nusle region.
Source / photo: www.retrend.cz / Svoboda & Williams sro