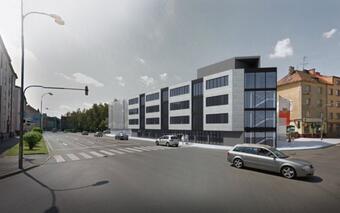 "According to the contract, we have 335 days to implement the building, which will grow on the area of ​​the current car park, delimited by Evropská, Pivovarská and Svatopluka Čecha streets. Already in January 2022, operations could begin here," said Jan Kutač, director of the Sokolov area from the Building Construction West plant of Swietelsky stavební. It also completed the Ostrov branch for the same investor the year before last.
"The opening of the Cheb branch will represent the next stage of our efforts to create conditions for the start-up of start-up companies and to strengthen innovation activities throughout the region," said Petr Haak, CEO of EHC Czech.

This project aimed at building infrastructure to support innovative business is the largest in the Karlovy Vary region. In three cities, it includes two office buildings and four operating halls. After its completion, over 15,000 m2 will be available and the Kanov Business Incubator will cover the entire region with services. This should also encourage private sector cooperation with scientists and researchers.
The Kanov business incubator was opened in Karlovy Vary in January 2015. Today it already includes three pilot-scale halls with an area of ​​9,500 m2, offices, and an administrative building. Those interested in the start-up program will find equipped workplaces with all services, including consulting. In the summer of 2019, a branch was opened in Ostrov with a pilot hall with an area of ​​over 3,000 m2 for production and storage. So now the project is entering Cheb.
Source:// Retrend