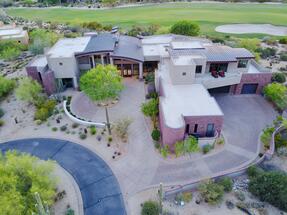 Originally built as a corporate retreat, the home at 10687 Evans Ridge Road has not one, but two conference rooms, a bowling alley, dance floor and a stage for performances.
Those are just some of the highlights in the home that also contains three full apartments, 11 bedrooms, eight full bathrooms, nine three-quarter and seven half baths across 45,212 square feet.
The 35-acre property boasts a private drive, garage parking for 29 cars, a stocked pond, manicured gardens and a separate 3,881-square-foot caretaker's residence — all with views of the Rocky Mountains.

The home was previously listed for $22 million in 2007, $18.37 million in 2014 and was slated to be auctioned in 2014, but never was, according to listing agent Liza Hogan of Douglas Elliman Real Estate.
Ownership of the home went from Cal Turner Jr., the son of Dollar General founder Cal Turner Sr., to a trust in the name of his son Cal Turner III in 2011, according to Douglas County, Colorado, public records. Hogan confirmed that a family trust maintains ownership. Turner Jr. became president and CEO of Dollar General in 1977 and held the role of CEO until 2003.
According to public records, Turner Jr. and his wife Margaret Turner purchased the property in in 2002 for $7.4 million, a year after the listing says the home was constructed.
Hogan explained that the Turner family finished building the home and that they were the only ones to occupy it, but it was not their primary residence.
As for the next owners of the home, Hogan says the property is well-suited to buyers with large families, equestrian interests or a car collection.
"Whether this is a primary or additional vacation home remains to be seen," Hogan said.
The home's furnishings and art and wine collections are included in the purchase of the home, and the buyer would also get the chance to add on an extra 35-acre plot of land for a an additional $1 million, Hogan said.
(source: bizjournals)