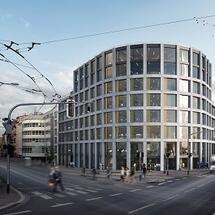 The lot on the corner of the busy intersection has been vacant since 2011, when workers tore down a long-unoccupied apartment building. An eight-story administrative building with a roof garden and two underground floors with garages is to rise on it. The developer collaborated with the studio a53 architects on the design of the building.
"The gap, which has not been built on for a long time, is bound by many regulations and restrictions. It was also necessary to respond to the proximity of the historic city center, the neighborhood of architecturally significant buildings and, last but not least, the complex traffic situation. Thus, the arched street line was predetermined, and from previous projects, the volume of the building," said architect Petr Bořecký from a53 architects.
On the ground floor of the building, the developer plans to have a cafe, reception and a private postal service, while the seven floors above will be open space offices. The offices on the fifth and sixth floors will have their own terraces. There will be 70 parking spaces and six electric car chargers in the building's underground. They will be approached from Koliště Street, the exit ramp will open onto Milada Horáková Street. In total, the building will offer 7,500 square meters of rentable space.
Trikaya, the company that will build the building, wants to get LEED green certification. Eight categories are evaluated in it, the greatest emphasis is placed on energy and water consumption. The project has already been issued with a building permit, the work itself should start in the first half of this year, and the building should be finished in 2025.