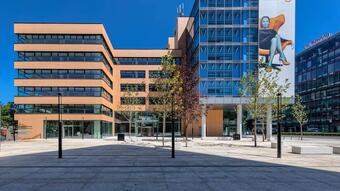 "We consider BB Centrum to be an important center of business events in Prague. In our decision-making, we have taken into account that we will be in the environment of the most important companies from various fields of business. We think that G4S definitely belongs to such a company. We also believe that the excellent infrastructure of the location, including excellent transport accessibility, a wide range of catering facilities, shops, sports grounds and parks, will increase comfort for our employees and help better combine work and leisure activities, "said Josef Janoušek, Finance Director CZ&SK, G4S.
G4S Secure Solutions, a global security agency, has been offering its services in the Czech Republic for more than 30 years. Among the providers of comprehensive security solutions, it occupies a leading position on the market and its portfolio includes a wide range of services including physical protection of buildings, security systems, electronic monitoring and security consulting.
"We are very pleased that G4S has expanded its portfolio of major Czech and international companies based in Brumlovka. Not only we use the services of security agencies as a property owner, but also a number of other tenants, and therefore the possibility of approaching our customers with G4S was one of the reasons why they chose their headquarters in BB Centrum. As part of its complete reconstruction, Building B made it possible to build not only representative offices for G4S, but also a very specific technical background for the needs of the security agency, "adds Lenka Preslová, Head of Sales at Passerinvest Group.
Building B has a total office area of ​​15,600 m2 on 8 floors and retail areas of 1,240 m2. After an extensive reconstruction completed in June last year, it has become one of the category A administrative buildings. It offers a walk-through atrium with water features, greenery and benches connected to a new public space, Ellen G. White Square. The last 1,500 m2 of vacant office space is now available to those interested. The last two business units in Building B remain for rent in Building B, one with an area of ​​92 m2 situated on Vyskočilova Street and another with an area of ​​240 m2 with an entrance from Želetavská Street.