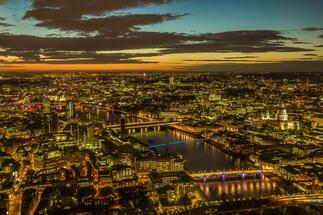 The survey shows that investor demand for commercial real estate continued to recover from the pandemic in the first quarter. Many investors currently see real estate as insurance against rising inflation. Preliminary data for the first quarter suggest a 5% increase in trading volume compared to the same quarter in 2021, with the 12-month moving average increasing by 7%.
Colliers notes that the shock in global supply chains and commodity markets has exacerbated inflation, which has been rising so fast. "Inflation is also affecting construction," said Luke Dawson, Colliers' chief executive officer for EMEA's cross-border capital markets.
However, the financial performance of both tenants and investors was strong in most European markets in the first quarter, while confidence in the office building sector was restored. "The market has been significantly affected by internet giant Google, which has pledged £ 762.5 million in transactions for London's Central St Giles and € 583 million for the Warsaw HUB office in the Polish capital. This shows a long-standing post-pandemic confidence in the office real estate markets in Europe, "explained Richard Divall, Colliers' Cross-Borders Director.
Leisure-related hotels and real estate, ie hard-hit pandemic markets, have seen a clear recovery since mid-2021; renewed interest is particularly evident in southern Europe. Spanish hotels attracted € 1.1 billion in the first quarter of 2022 - more than in 2020. "Travel restrictions are easing worldwide and investors expect deferred consumer demand for travel and holidays to be the driving force behind 2022 strong recovery in hotel real estate markets. However, a sharp rise in the cost of living could dampen some of this interest as household budgets come under pressure, "Luke Dawson said. level. "
The Czech Republic recorded a very strong first quarter
In the Czech Republic, the first quarter of 2022, valued at around € 907 million, was one of the best results in 10 years, after the first quarter of 2020, when Heimstaden acquired the Residomo portfolio, and the first quarter of 2019, when transactions increased significantly. Waltrovka and Hotel InterContinental. This year's volume represents a 206% increase over the same period in 2021 and is about 32% higher than the ten-year historical average.
"The transactions made by CPI Property Group through the sale of IGY in České Budějovice (incl. City Park Jihlava), the industrial portfolio (Vestec, Jazlovice and Brandýs nad Labem) and BB Centrum E (ČEZ headquarters) contributed to this. KKCG sold Bořislavka to REICO and Coral Office Park was acquired by the MINT Group from Portland Trust, "said Kevin Turpin, Colliers' Regional Director for Capital Markets in Central and Eastern Europe. "We do not expect the rest of the year to continue at this pace, partly due to a lack of available products in some sectors. In addition, other factors make investors' strategies more difficult, such as the continuing impact of the pandemic on some sectors, reflections on the ESG and the war in Ukraine. As a result, some investors take a wait-and-see approach, while others notice emerging opportunities. Despite these challenges, we estimate that our investment in 2022 should exceed € 2 billion. "
Germany recorded another excellent quarter
In the first quarter, investors invested a record € 18.2 billion in the German commercial real estate sector, three-quarters of which took the form of strategic corporate acquisitions in crisis-resistant industries such as DIY stores and specialty grocery stores. The trend in investment in industrial and logistics real estate remained clear, with this segment ranking second only to office real estate in terms of investment volume.
The United Kingdom is returning to form
Colliers notes that owners of large amounts of capital are seeking to purchase commercial real estate in the UK; The lifting of travel restrictions in many parts of the world has brought global investors back to the UK market. The volume of investments in the first quarter of 2022 reached 13 billion pounds, which is 10% more than in the same period last year and corresponds to a ten-year average. One notable trend was the revival of interest in shopping malls, which recorded the highest quarterly investment volumes in five years.
Italy had a record start to the new year
In Italy, investment volumes reached a record 3.1 billion euros in the first quarter. This figure was affected by the transaction on Project Dream's extensive portfolio, which includes offices, industrial and logistics properties, retail, residential and hotels for € 842 million. Most of these 68 properties are located in Milan and fall into the category of value-added properties with strong potential for modernization.
There has been a significant improvement in Poland, but the outlook is uncertain
Despite the February Russian invasion of neighboring Ukraine, Poland had a strong first quarter. Investments of 1.5 billion euros were recorded, which represents a significant year-on-year growth. However, Colliers expects Western investments to be more selective during the year and, as a result, investors in Central and Eastern Europe will continue to grow on the Polish market.
A quiet start to the year in France
The volume of investment in France fell by 7% year on year in the first quarter, due to geopolitical uncertainty related not only to the war in Ukraine but also to the French presidential election. In particular, investor activity in the wider Paris region was subdued. The main drivers of the market remained offices, which accounted for almost 80% of completed transactions.