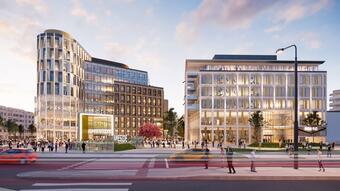 "At the beginning of September, the Pilsen City Magistrate, Department of Construction Administration, issued a decision on the location of the 'AMESIDE Polyfunctional Center' building. All the authorities concerned issued positive opinions on the AMESIDE project, and we also incorporated all comments from the previous public hearing of the EIA (assessment of the impact of the building on the environment )," Klan said.
The project includes apartment buildings with more than 120 apartments, over 21,000 square meters of administrative space and about 100 shops. A quarter of the area is intended for civic amenities, i.e. for sports, leisure and entertainment. Parking with approximately 1,500 spaces will be underground. The proposals for how the area opposite the main train station in Pilsen should look are the work of architects from the London studio Chapman Taylor and the Czech AGE project.
According to Mayor Pavel Šindelář (ODS), this will be the first such extensive, conceptually new and modern district in Pilsen since 1990. The character of the lower part of Americká Street and its surroundings will change, and the location of the main station will be connected up to the embankment.
According to Klán, the investment, including land purchases, will amount to eight billion kroner, which is twice as much as compared to its beginnings about ten years ago. According to the Clan, Ameside will not build the complex in stages, but all at once, and will open it anyway. He would like to start earthworks and similar works already in the first quarter of 2024. "Ameside intends to put a huge amount into the project. These are not ordinary investments in Pilsen," said Šindelář. According to him, the largest investment in the city in recent years was the completed construction of the can factory of the American company Ball for 4.5 billion CZK. One billion less will be spent by 2026 by the Japanese Panasonic, which will significantly strengthen the production of air-to-water heat pumps in Pilsen, which are now in great demand in Europe.