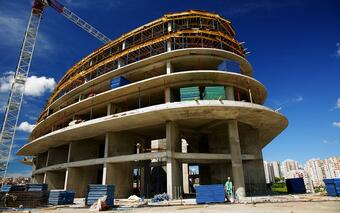 However, the average vacancy rate in many European cities - including Berlin, Stockholm, Amsterdam and Paris - will remain below 6%, making them one of the most highly competitive markets for office space.
In total, the construction of 5.2 million m2 of office space should be completed this year in 24 markets in the region. A similar volume of administrative space (5.1 million m2) should be completed in 2022. This is the highest volume of completed construction in the last five years.
However, Savills anticipates that given that half of this space is already pre-leased - 54% of office space to be completed in 2021 and 39% of space delivered in 2022, all new office space will be spaces quickly occupied.
Lenka Pechová, Senior Research Analyst spol. Savills CR and SR, adds: "Of the premises that should be completed in Prague in 2021-2022, approximately 44,300 m2 is already pre-leased and speculative construction is estimated at 122,000 m2, which corresponds to 3.3% of the current total supply . "
The biggest shortage of premium offices will be in Berlin, where 2.3% vacancy is expected this year, while the supply of vacant office space is also very low in other German cities. In 2021, the vacancy rate in Cologne should fall to 2.9%, while in Hamburg it could reach 4%.

The shares of pre-contracted areas are lower than in previous years (when they ranged between 55% and 60%), however, Eri Mitsostergiou, Director of the European Market Research Department, spol. Savills, adds: "Quality workspaces are a priority for tenants, and as this trend is expected to continue, supply remains limited."
The report also confirms the views expressed in the latest publication Impacts, published by Savills last month. The publication states that the transition to a hybrid model of work is the biggest challenge that companies will face in the next five years. "Due to the low availability of offices in many locations, it is better to start looking for spaces that will suit you for a hybrid model of work, sooner rather than later," the publication said.
Savills also saw a shortage of office space in Stockholm, where vacancy is 5%, and in Munich, where vacant office space could account for 4% of the market. It will be 7.2% in Lisbon, 7.3% in London's West End, and 8.5% of vacant space is expected in Barcelona and Prague by the end of the year.
The European Office Development report predicts that an increase in secondary supply should lead to an overall increase in the average vacancy rate in the whole area, but much of this may not be attractive in meeting current tenant requirements, especially ESG and suitability for digitization.
Savills estimates that the volume of vacant offices will move upwards by 80 basis points so that empty offices will account for an average of 7.5% of the total supply of the monitored markets.
European markets are expected to have the highest vacancy rates in Warsaw (11%), Bucharest (11%) and Paris's La Defense district (13.5%), according to Savills.