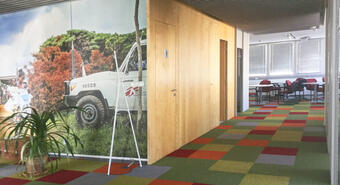 The Headquarters of Prague Doctors Without Borders has been based in Prague 3. Due to the nonprofit nature of the organization, JLL has provided its services with the aim of supporting this organization and minimizing its migration costs.
"I'm glad I could work with Doctors Without Borders. It is a non-profit organization that has a very limited budget, so the project was a great challenge for us. Despite this, we managed to deliver quality and beautiful offices to the full satisfaction of the client. This cooperation confirmed that thanks to the right management and selection of suppliers, we will be able to fulfill the ambitions and fulfill the requirements of every client in JLL and Tétris regardless of their financial possibilities, " said Miroslav Brabec, senior project manager at JLL .
" Cooperation on the project took place very well and we appreciate the maximum professionalism of both JLL and Tétris representatives in working on this difficult project. I appreciate their human approach and deep knowledge in the field. Thanks to the excellent time management, we can move to new premises that meet our needs in time and with all satisfaction. I also appreciate the fact that both companies have taken into account the humanitarian character of the MSF organization, thanks to which they have provided their professional services at a fraction of the market price, " said Pavel Gruber, CEO of MSF in the Czech Republic.
MSF has been operating in the Czech Republic since 2006. There are over 3,500 international collaborators in the field, with nearly 38,000 local employees working alongside. Together they provide life-saving medical and humanitarian aid to people who would otherwise have no access to health care, drinking water or shelter.
Source / photo: www.retrend.cz / Jones Lang LaSalle sro