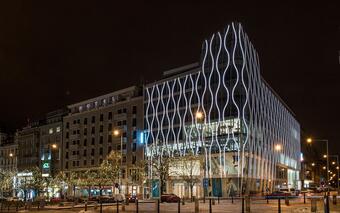 Demand for corporate relocation services is growing rapidly, so Graebel was looking for office space that would provide adequate support for the company's expanding team and suit its corporate culture based on employee satisfaction and overall well-being. As Graebel continues to recruit new colleagues for his local presence, the goal was to find a building that would attract the greatest talent from the region.
The Graebel offices in The Flow Building were designed by the Chapman Taylor studio behind the design of the building itself. It consists of a combination of diverse work environments tailored to the tenant, including themed meeting rooms inspired by its global presence, soundproof boxes for undisturbed telephony, and quiet zones. For maximum efficiency, elements enabling the use of hot-desking were incorporated into space. With an ever-expanding local team of more than 100 members, Graebel has its own spacious kitchen and relaxation facilities at the head of the building overlooking Wenceslas Square.
"The new Graebel premises are an example of all the benefits that The Flow Building can offer its tenants," says Petr Červený, leasing manager at Flow East.
"These offices, the first to be completed here, reflect the spirit of the entire building while capturing the essence of Graebel's business: they are modern, vibrant, and dynamic. With access to The Flow Building's common areas, including the rooftop terrace and lounge called The Flow Zone, Graebel employees can enjoy work and leisure in an environment that actively promotes the personal comfort and well-being of its users."
The offices, located on the second floor of The Flow Building, use its flexibility, sustainability, and quality of facilities for tenants. A number of solutions have been implemented to optimize employee comfort, including parametrically controlled exterior facade shading that protects them from sunlight while providing plenty of daylight.
The building is designed with a view to achieving maximum efficiency of its operation. Heating and cooling are provided by a VRV (Variable Refrigerant Flow) heat pump system. Technological solutions are divided into zones enabling their individual control with regard to the occupancy of individual parts of the building. The distinctive 3D façade with triple glazing has openable windows that allow tenants to ventilate their space in a natural way. The roof terrace then opens to all tenants the opportunity to stay in the fresh air and an impressive view of the Prague skyline without having to leave the building.
Graebel is a leading global provider of talent mobility and work environment solutions, delivering services to Fortune 500 and Global 1000 companies and their employees in 165 countries. The main branches for the EMEA region are located in Prague, London, and Dundalk, Ireland, and the company is expanding its operations throughout Europe. In 2020, it also opened offices in Munich and Geneva.
The move to The Flow Building opens the latest chapter in Graebel's long-standing partnership with Flow East. Graebel is moving to new premises after years of renting offices in the Forum building on Wenceslas Square and in Richter's house on Malé náměstí. The relocation was carried out with a vision of the company's expansion and further growth in the number of members of its team.
"We are thrilled to move to one of the most remarkable and significant new office buildings in Prague," said Casey Phelps, senior vice president, and general manager, Graebel EMEA.
"As part of our growth, we want to reach out and gain the greatest talent on the market for our team. By moving to The Flow Building, our excellent relationship with Flow East continues and we create an atmosphere that helps us develop an amazing corporate culture for current and future colleagues. The decisive factor for us was the consideration that the building places on sustainability and a healthy indoor environment. Taking this into account is now even more important in the context of climate change or the pandemic we are facing."
Work for future tenants is being completed at The Flow Building. 3,000 square meters are still available for rent, including impressive office space with panoramic views of Prague on the top floor. The architectural value of the building, excellent accessibility by public transport, and the emphasis on sustainability and user comfort makes it one of the most sought-after commercial properties in the city.
About Graebel
Graebel Companies, Inc. is a global mobility management company that provides a comprehensive range of services to Fortune 500 and Global 1000 clients and their employees in 165 countries. Since its founding in 1950, Graebel has evolved to provide clients with excellent relocation services and results, while still maintaining a family character. With bespoke technology solutions, Graebel develops and implements relocation strategies that help attract and retain a talented workforce; respond more quickly to global market trends, and maximize the return on mobility programs. As a relocation company (RMC), Graebel handles every part of the process for employers and employees, including transportation and country and destination services.
About Flow East
Flow East a.s. is a long-term private investor owning a portfolio of first-class commercial, retail, and residential real estate in Prague and adjacent areas with a total area exceeding 200,000 m2. The company has been operating in the Czech Republic since 1990 when it was founded by the current owner James Woolf, a British citizen with Czech roots.
The latest flagship project of Flow East is the office and retail building The Flow Building awarded BREEAM "Outstanding" on Prague's Wenceslas Square. The Flow Building provides three floors for retail and seven floors for energy-efficient and sustainable office space using large and flexible 2,500 square feet of floor space with a roof terrace and impressive views of Prague Castle.
Source: // Retrend