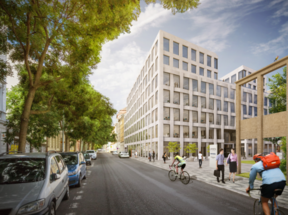 The project with a total leasable area of almost 12,000 m2 and seven floors not only offers modern office space but also an atrium whose clever design will also allow the staging of concerts, theatre performances or an art exhibition. "The layout of the space will create a place which can be used as a stage and the installation of atypical stairs can also be used as seats. Thus this composition will allow spectators or listeners to see artists from all rows," explained Petr Houska, Project Manager of Skanska Property.
The designers and architects looked for inspiration from one of the buildings that Skanska built in the Swedish city of Malmö. This is one of the fastest expanding cities in Europe. The same can be said about the Prague district of Karlín. "We want to partcipate in the development of this city district, which is one of the fastest growing Prague districts. We would like to revitalise this location and combine business and art. Therefore we have decided to use part of the location we are rebuilding for artistic purposes," says Skanska Property's Managing Director, Marie Passburg. Thanks to the construction, the streets Pernerova and Křižíkova will be linked together and it will create a new busy piazza in the heart of Karlín.
In its projects Skanska continues to implement many innovative features and each building becomes more technologically advanced which is appreciated above all by its tenants. The Praga Studios project is no exception. The building's users can, for example, make use of all the services in the building and the surrounding area using a special mobile application. It is already natural for Skanska to certify the building with LEED Platinum certification and as a result the tenants can be certain that the entire project is environmentaly friendly. This also relates to the applied shared economy concept of electric car or electric bike sharing.
But besides the LEED certificate, Skanska is taking a step further and plans to obtain WELL certification for the building, which monitors features that affect human health and wellbeing through the quality of air, water and access to a source of light. It also focuses on personal comfort, access to healthy food and the effect of buildings on the body and mental health. Such certified office buildings also provide employees with further benefits such as sporting activities or a garden.
The construction of Praga Studios should be completed in the second quarter of 2019.
email: [email protected]
Further information at www.skanska.cz/cz/News-and-press