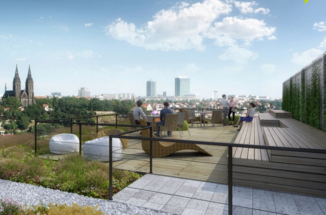 The Five building has contributed to the development of the Prague district of Smíchov and is the second building Skanska has built in this location. Five was built in compliance with the principles of sustainable development and with a careful respect of the environment. The whole building saves more energy and water than normal administrative buildings and contributes to the sustainable development of the city.
Solutions that play a key role in energy saving include maximization of energy savings thanks to LED lights used in the whole building, daylight management in offices and the use of elevators with energy recuperation. Other environmentally friendly technologies include collection of rainwater for greenery watering and the use of a highly efficient cooling system. "Efficient air filtration, use of cooling beams, more efficient air circulation and CO2 monitoring ensure a high-quality inside environment for the tenants," said Marie Passburg, Managing Director of Skanska Property Czech Republic.
The efficiently and flexibly designed building with a preserved historical wall and chimney boasts a unique industrial design and a large number of innovative elements. One of them is undoubtedly the mobile application that supports the tenants in the building with all sort of services and the most recent addition is a possibility to order washing, cleaning and ironing of their clothes. Other significant benefits for the tenants include the high amount of natural daylight, use of low-emission materials, the restaurant or the roof terrace with plants and a breath-taking view of the Prague Castle, Vltava and Vyšehrad fortress.
"In addition to meeting our core principles, we also feel the demand for LEED certificate among tenants. We strive to perfect our buildings and to achieve the highest certification in sustainable development. This is also why we have decided to take it a step further, and starting with the Visionary project, we will certify our buildings also with the WELL certificate that monitors elements which impact the health and mental well-being of people via the quality of air, water and access to light sources. It also focuses on personal well-being, healthy nutrition and the impact of buildings on the human organism and mental health," said Marie Passburg.
Source: Europaproperty