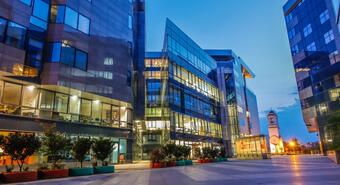 The volume of investment in the domestic real estate market reached EUR 1.081 billion in the first quarter. This represents almost half of the total EUR 2.3 billion invested in real estate in all CEE-6 countries. The total value of investment in the region was 21% lower in the first quarter than in the record first quarter of 2018. The most significant factor affecting this year-on-year decline is the decrease in investment flows in Poland (60%), where last year's first quarter was very strong, and the extreme weakening of retail property investment, which was only € 161 million in CEE-6. One year earlier, it was EUR 2.03 billion.
"The market momentum in the first quarter is the return of business volume in the Czech Republic to the same quarterly pace as we could see in 2016 and 2017. The office segment experienced investments of € 1.25 billion and the first quarter has become almost record-breaking for hotels. EUR 459 million was invested in them, and transactions in this segment were closed in Prague, Ostrava, Krakow, Warsaw and Budapest, " says Mark Robinson, Colliers International Research Specialist for Central and Eastern Europe .
Western European funds were net buyers in the first quarter, while East Asians remained active buyers. The US and UK funds acted purely as sellers. Domestic buyers from the Czech Republic, Hungary, Slovakia and Bulgaria also remained in the transactions, even under less liquid conditions. Most of the domestic sales in CEE-6 during Q1 were represented by developers delivering completed projects.
"In the first quarter, a further 4.5% inflow of investment from Korea contributed to further compressing the highest office revenue in Prague," added Andy Thompson, Colliers International's Investment Director for the Czech Republic and Slovakia .
Flow of investment in CEE-6 by origin of buyer and by origin of seller in Q1 2019 (%):
"The double rate of GDP growth is beginning to be felt in most global economies, with production slowing down and services continuing to grow. Are the CEE-6 countries also adopting this formula? The slowing pace of industrial production is visible in the Czech Republic and Romania in the first quarter. The growth of the manufacturing sector is healthier in the rest of the region. Based on wage dynamics, retail sales are increasing across most regions, with only Slovakia and Bulgaria exempting, " adds Robinson .
Source / Photo: www.retrend.cz / BEST Mediální společnost, sro / Title Illustrative Photo (www.pexels.com)