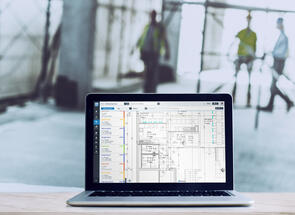 "We are in a digital age in which the construction industry is constantly evolving. An efficient way of automating work processes has become one of the key factors influencing the speed of completion of new projects and their profitability. That's why we created PlanRadar Connect, "says Ibrahim Imam, co-founder and CEO of PlanRadar, adding:" We want to improve the ability of different systems to work together and remove barriers to incompatibilities that come with more software. Due to this, some data may be inconsistent or there is a risk of duplication, which of course adds to the work. By creating an easy way to connect existing technologies, companies can work even better and with more accurate data. In general, the interconnection approach is something that the whole real estate sector should strive for. "
Working with the PlanRadar application is completely intuitive and allows you to create, comment and share information about the building online, ie. in real time. The user can view a building model or an individual floor or room in any possible form that is available - whether it is a diagram, 3D model or BIM model. He then sticks his note in a place that requires the attention of others or gives someone a task to complete. In the form of a voice recording, text or image. All participants see what needs to be done, who is in charge and when it should be done. Of course, those affected can respond or only inform you later that the task has been completed.
The mentioned improvement will bring even more flexibility to its users from the ranks of real estate professionals (developers, project managers, construction managers, architects, building managers, etc.): it will allow them to continue using existing software and set work processes in such a way that they do not lose any functionalities. which PlanRadar offers. This will lead to higher accuracy, work efficiency and time savings. In addition, in an environment where information sharing is critical to project success, PlanRadar Connect can support better levels of communication and collaboration between teams, creating an accurate audit trail of all decision-making processes.
At the beginning of the year, PlanRadar received a total of $ 69 million from investors (in the B-Series investment round) for further expansion and technological advancement. Its intention is to support its own research and development, while it wants to finance a new technology center and a specialized innovation team, which will be responsible, among other things, for the ability of various software and programs to work together quickly and efficiently.
The new feature extends the existing API (Application Programming Interface), which allows faster and easier integration with more than two hundred existing software such as Outlook, Dropbox, Jira, SAP and Microsoft Dynamics.
"As the construction industry strives to maximize efficiency, we see a growing demand for fully automated workflows that connect office teams with field workers at every stage of the real estate lifecycle. PlanRadar Connect is a great example of a Workato platform with minimal or no coding that allows anyone to easily and quickly create their own automated processes to pass important project information and data sharing between PlanRadar and more than 200 other major applications, "said Gautham Viswanathan, product ředitel at Workato.
Ibrahim Imam concludes: "This is just one of a number of planned steps that we are planning in the constant development of our software. It is currently used daily by 100,000 real estate professionals in more than 60 countries. We are already looking forward to positive feedback from our customers as they gradually start using PlanRadar Connect. "