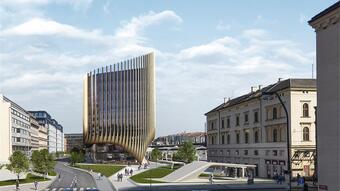 The post office operated a branch and a depot in the building. It closed the operation of both parts by last year. Penta is building two multi-functional buildings for 2.2 billion crowns in the immediate vicinity of the Masaryk railway station in Na Florenci Street according to the design of the late architect Zaha Hadid, and at the same time it is working on the reconstruction of the railway station premises.
"Today, the e-auction of the post office building in Prague in Hybernská Street took place, from which the winner came out, offering 220 million crowns, which was also the minimum bid price. Follow-up steps will now take place, such as signing the contract and submitting the price," said Ivo Vysoudil, spokesman for the post office.
Penta moderates ambitions and changes Zaha Hadid's project on Masaryčka

According to Mravinac, Penta plans to renovate the heritage-protected part of the building and demolish the other, unsatisfactory part. He wants to build commercial premises on the site. The railways together with the company Penta Real Estate began to repair the historic building of the station from the 19th century and its surroundings in 2011. So far, for example, the roof of the departure hall, the glass facade, technology, granite floor, toilets and some commercial areas have been reconstructed. There were also new ticket offices closer to the platforms.
On the brownfield near the Masaryk railway station in the direction of the Florenc bus station, Penta is preparing another construction. In total, he intends to invest ten billion crowns in the locality.