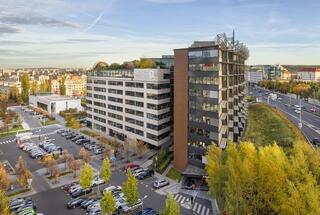 In accordance with its strategy, Passerinvest bought back the seventh building in Brumlovka to its portfolio. In 2014 the Alpha building, in 2015 the Beta building, in 2016 the Building A and Building B objects, in 2017 the Building D object and in 2018 the Villas building.
The Gamma administrative building comes from the architectural studio Aulík Fišer architekti and ranks among the most impressive modern administrative buildings. It has a total of 30,000 m2 of rentable space on 10 above-ground floors.
"This significant investment will expand the offer of office solutions for our customers and contribute to the further development of the southern part of Brumlovka. We thank the partners from IMMOFINANZ and the financing bank Reiffeisenbank Oberösterreich for the quick and correct transaction," said Ondřej Plocek, financial director of Passerinvest Group, a.s.
"I am very pleased that we have managed to get the Gamma building back into our portfolio. Gamma is a very architecturally and technically timeless building. This acquisition is part of our long-term strategy, because we are developing the Brumlovka location in the long term and want to offer both our customers and the residents of Prague a beautiful and sustainable urban environment in a functioning city district with all its attributes," adds Radim Passer, CEO and founder of Passerinvest Group, a.s.
The Passerinvest company is counting on the modernization of some technologies according to the latest trends, as well as an internal and external facelift of the building in order to maintain the highest quality of the administrative premises.