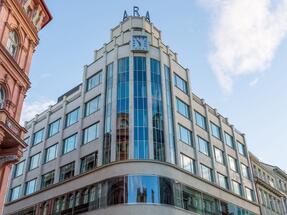 A reminder of the famous architect
The 7th Open House Prague commemorates the 150th anniversary of the birth of Jan Kotěra, the founder of modern architecture. A special ride on the Kotěr tram around Prague with the architect Zdeněk Lukeš is also prepared. Kotěr's significant Prague realizations, such as the Vršovice Waterworks in Michle, the Trmal Villa in Strašnice or Laichter's House in Vinohrady, will also open among the dozens of venues at the festival.
It is in Laichter's house that a composed evening combining contemporary dance and architecture takes place on Wednesday, August 4. In the park in front of Laichter's home in Chopinova Street in Vinohrady, three short dance paintings from the workshop of choreographer Michal Záhora entitled Turning of the End will take place first. Subsequently, a tour will take place directly in the house, which will be personally carried out by Jan Laichter's great-grandson. The atmosphere will be complemented by a Chalupski concert.
Functionalist pearls of architecture
The motto of the festival is "Architecture for all". Through this year's invitation, he highlights functionalism. On the invitation, illustrator Jan Šrámek painted the impressive ARA Palace from the 1930s, which looks like American skyscrapers. It stands on the corner of Perlová Street and was originally also referred to as the Perla Department Store.
The palace opens two floors of the HubHub coworking space for visitors. Visitors can see not only the design solution of shared offices, but also the views from the terraces on the 7th floor.
The festival also attracts with breathtaking views
The terrace with a view of the very heart of Prague is also offered by the neofunctionalist House of Fashion, the decoration of Wenceslas Square. The architect Josef Hrubý based his design on the architectural current of the First Republic. He created a harmonious whole, which was the first Czechoslovak post-war house to gain an exclusive position. It was gradually supplemented by other department stores, but it is still set in an exclusive location.
Unlike the Ara Palace, the House of Fashion still retains its original function. The owner in the form of PSN follows the time of his greatest glory, when he was synonymous with luxury in the context of the whole of Prague and the republic. After an ingenious reconstruction, which PSN took care of with respect for the architectural value of the house, the goods of leading clothing and footwear brands are presented on six floors. And there is also a cafe as in the old days.
The Open House Prague opens a terrace and social spaces in the form of group tours, which take place on the weekend of August 7 and 8, always from 10 am to 6 pm.