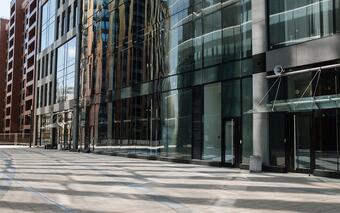 JLL's new studies, "Shaping the Future of Work for a Better World" and "Shaping Human Experience," explore new chapters in the near future. They reaffirm that companies that flexibly adapt to changing ways of working, the workforce and expectations from the workplace will strengthen their competitiveness in the post-pandemic period.
A new meaning of offices is emerging
Although employees are inclined to work regularly from home and in the future, they maintain a strong connection to work from offices. Research shows that offices are a place to build community and belonging to a company, while long-term work from home has affected the quality of mutual cooperation, leadership and managerial competencies. JLL's human experience report, which examined more than 2,000 employees in offices around the world, found that 70 percent of employees believe the office environment is better suited to connecting with colleagues to solve more complex tasks, lead teams, and connect with management of the company.

"The pandemic has accelerated a trend in which offices primarily support productivity and socialization with colleagues," said Neil Murray, global CEO of JLL Corporate Solutions. "The key to successful post-office office adaptation will be diversity, flexibility and choice," adds Neil Murray.
Following the pandemic, traditional offices will act as a headquarters to support productivity and collaboration and will be important for maintaining employee performance, transfer of experience and comfort. For example, a JLL survey found that one in two employees considered social spaces to be key to their office user experience. In addition, 74 percent of employees surveyed agree that being able to come to work in the office remains crucial for them.
The transition from workplace-oriented thinking to employee-oriented thinking
Due to the pandemic, companies have already adapted to greater flexibility in the work environment but will continue to have to proactively meet the needs of their employees in order to retain or attract the greatest talent in the labor market.
At present, it is possible to work almost without borders - 66 percent of employees, therefore, expect to be able to work from different places. They also demand safe, productive and undisturbed conditions that meet their personal and professional needs. This will require employers to find a balance between physical and virtual work environments to meet the diverse needs and working styles of their employees.
The JLL study presented four-employee profiles, which show that there are radical differences between employees' expectations of future work.
A traditional office worker wants to continue to work only from the office, a free spirit wants to run away from the traditional office environment completely, the indulger enjoys a vibrant work life and will therefore vote only 1-2 days a week at home and a wellness addict prioritizing work-life balance will prefer 3-4 days a week at home. These types of workers will need to be taken into account when adjusting working conditions to meet their different requirements.
"Our data and contact with the employees of the companies we advise on the new setting of the work environment show that there is no unified solution that would suit everyone. In the hybrid model of work, the flexibility an employee gets is the key," says Vendula Bláhová, Senior Workplace Consultant at JLL.
"Some people will be truly productive if they spend most months working from home or another place out of the office, while another employee will need to be in the office just a little less often than before a pandemic, either because of resources or contact with colleagues or clients. The first step is to clarify what profiles of employees in the company are," explains Bláhová.
"Many employers are beginning to realize that they will never work the way they were before the pandemic crisis. Employers will need to adapt the work environment to the new ways of working brought about by the pandemic and adapt to their employees," explains Mary Bilbery, Global Director of Human Resources at JLL.
The work environment will be different, but no less important
The hybrid model of work quickly became the new standard. Half of the workers want to work both from the office and from home. JLL also expects a significant shift in the operation of flexible offices: from landlords who will create their own serviced offices or coworkings (or merge with an operator of such offices) to corporate tenants who will consider greater diversification of their premises to adapt to the new behavior patterns of employees in terms of work and housing, ie to a geographically dispersed workforce supported by digital technologies.
"The Covid-19 pandemic has conditioned a massive change in the concept of how we work and live, while providing a unique opportunity, once in a lifetime, to create better conditions for future work," says Dr. Marie Puybaraud, JLL's Global Director of Corporate Solutions Research. "Successful will be those companies that fundamentally and proactively adapt the workplace to the changing needs and requirements of employees and whose solutions take into account individual needs."
"There is no reason to force employees to come to the office every day if they do not want to. The pandemic has shown that many activities can be done remotely without affecting productivity. But digital contact alone is not enough in the long run. It is necessary for employees to meet each other from time to time, share experiences, exchange ideas, and socialize. The office is the beating heart of the company, a place that shows the company's values, cares for the community and allows the company to move forward," explains Vendula Bláhová, Senior Workplace Consultant at JLL.
Source:// Retrend