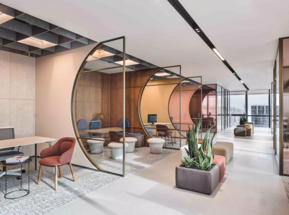 A pandemic is constantly changing the way employees and employers view office space. Even with the return to the "new normal", however, the market will not avoid important changes that reflect new hygiene requirements or the growing emphasis on modern technologies. The keyword for offices in 2021 will be flexibility.
"The back office, which includes conference rooms and other common areas, will become busier. It will also be important to be able to adapt to uncertain conditions. These will be reflected in practice, for example, by a more frequent combination of classic office space with flexible ones or the implementation of shift operations or a hub and spoke system. Recently, there has also been a great deal of interest in the rotary model," describes Jana Gerhátová from Business Link Visionary.
Offices as a space for cooperation
Conference rooms and other shared spaces will become the heart of the offices in the future. After a year of experience with the home office, the main point of modern offices will be more spaces for intensive cooperation and meetings, which, in addition to work efficiency, will also influence the corporate culture.
"The challenge this year will be to effectively combine work from office and home. If more employees can rotate in a certain number of places in the office, space is used efficiently, financial costs are reduced and at the same time, there is room for more intensive cooperation. This is crucial in times of pandemic," says Jana Gerhátová.
The role of contactless technologies
The year 2021 also brings with it fundamental changes in the field of banking identity. Together with the emphasis on cashless communication, a new wave of digitization is emerging, which will permeate all economic segments, not excluding the office space market.
"New technological demands for employers in practice mean the need to place more emphasis on investments that will help them keep up with digital trends. For example, contactless technologies will become the standard, both in terms of both economic and hygienic requirements," explains Gerhátová, adding that in the office environment, the implementation of contactless technologies is already beginning to appear in entrance systems, intelligent elevators, or personal cabinets for employees.
Source:// Retrend