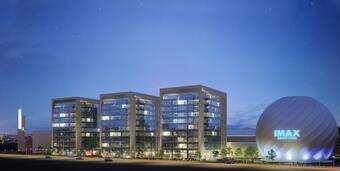 Developers have been very active in the Warsaw and Prague office markets in recent years. However, these leading CEE markets are victims of their own success as concerns over vacancy rates are causing developers to re-consider the Budapest and Bucharest office markets. Further, Belgrade offers development possibilities in a city with very limited office provision and Croatia is expected to undergo an economic upturn that could increase office demand in Zagreb. From a development perspective, it is equity rich developers and those able to secure preleases that are going ahead with developments in the wider CEE region. The standard of buildings in CEE is generally regarded as on a similar level to that found in Western Europe as developers need to meet the requirements of tenants and investors in order to let a building, facilitate debt finance and attract investors. Developers are constructing in accordance with BREEAM, LEED and DGNB certification in order to conform to EU legislation and this is now a basis requirement from potential tenants and investors.

Ghelamco are constructing the 220 metre high, 80,000 sqm Warsaw Spire that will provide over 80,000 sqm of office space, adjacent to the Palace of Culture in central Warsaw. Ghelamco are one of a number of leading international developers and investors that are active in the Warsaw office market as the conventional wisdom is that the city is the major business centre of Central Europe. The development of high visibility Skyscrapers is the current fashion as the city seeks to live up to its reputation as a leading European and indeed, world city. Further, there are few of the height restrictions that restrict development in Prague and Budapest where there are concerns over the need to preserve the historic centres of these cities. The status of Warsaw and Prague is reflected in Prime city centre rents that are put at €22-23 per sqm per month compared to €19.5-20.5 for Prague, €19.5-20.5 for Budapest and €18.5 for Bucharest.

However, rising vacancy rates are becoming a concern in the thriving Warsaw and Prague office markets. According to Savills, office stock exceeded 4.1 million sqm at the end of 2013 and is expected to reach five million sqm within the next three years. "Development activity is now much higher, in particular in the city centre, where over 260,000 sqm of new office space is under construction, of which circa 46 percent is to be delivered this year," said Tomasz Buras, head of office agency at Savills Poland. Demand for offices is strong and 2013 letting activity reached over 630,000 sqm. However Savills predict that increased development activity will lead to a growth in vacancy to around 14 percent by the end of the year.

In Prague almost 170,000 sqm of space is expected to complete in 2014 as vacancy rates have exceeded 13 percent. "Portland Trust is not developing any new buildings in Prague at the current time. The office market is highly competitive and local developers are still building speculatively and offering big incentives, which makes it very difficult to compete in the development market. Healthy take up is being tempered by a more than adequate level of supply," commented Robert Neale, Managing Director of Portland Trust who have been active in Prague for several years.

However a sign of confidence is that Skanska Property has started the speculative construction of the 17,300 sqm Corso Court. Skanska recently disposed of the 27,000 sqm City Green Court office development project to Deka Immobilien for a reported €54 million. Due to complete this year the complex is almost fully prelet.

With regard to further pipeline, the Austrian Immofinanz Group is undertaking its first development project in the Czech Republic with the €25 million refurbishment of the 6,800 sqm Jindřišská 16 building in the old town of Prague. The building is aiming for LEED Gold certification.

In contrast to Prague, new office supply in Bratislava is limited as 15 percent plus vacancy rates have caused many projects to be put on hold until significant preleases are signed. The major pipeline project is the 35,000 sqm Westend Gate business centre by the Slovak developer J&T Real Estate. "In general quality is seen as comparable to any class A product in CEE and even Western Europe as major developers are aware of the absolute need for Class A products if they want their schemes to be successful and liquid," commented Andrew Thompson, Managing Partner at Cushman & Wakefield Slovakia on the quality of product.

Due to economic concerns and high vacancy there is also limited pipeline in the Budapest office market with JLL estimating a mere 83,000 sqm of space under construction. This has brought vacancy down to below 19 percent for the first time since 2009. However critics argue that the vacancy rate is not a true reflection of the situation, as there are a number of outdated first generation buildings that should be taken out of the equation.

In the latest delivery the Hungarian developer, Horizon Development has officially opened the Eiffel Palace, a new building that has been constructed onto the original 1890s facade, located in the central 5th district of the city. A 9,000 sqm prelease was agreed with PricewaterhouseCoopers for the 12,000 sqm GLA development that facilitated financing from UniCredit Bank. "Without a prelease we would not have been able to start the project," said István kerekes, Leasing and Marketing Director of Horizon Development.

In another project the Hungarian CEE developer, Futureal is constructing the 6,200 sqm Corvin Corner, a third phase of the office component of the Corvin Promenade urban rehabilitation project. Another office project by the company is the 23,500 sqm Vision Towers for which a built-to-suit deal for one wing of the three-winged centre has been signed with KPMG.

An investment deal for Skanska Property's 17,800 sqm Green House is close to completion. The almost fully let office building with LEED Platinum certification is located in the ever popular Váci út corridor business district. Also in Váci út, Skanska are set to commence construction of the first phase of the 26,000 sqm Nordic Light. The project will be developed in two Phases and is expected to complete in 2015. The company has the choice of undertaking construction of a larger or smaller phase of the centre depending on prelets.

A sign that the Bucharest market is picking up was the delivery of the €80 million Floreasca Park by Portland Trust in partnership with the New York-based AREA (Apollo Real Estate Advisers) at the turn of the year. A major prelease in the 38,000 sqm GLA business park was a 25,000 sqm deal with Oracle that satisfied the bank financing requirements.

With regard to pipeline it is estimated that new Bucharest office supply will reach 150,000 sqm in 2014, in a city with a total stock of a little over two million sqm, significantly lower than Prague and Budapest and half of the stock in Warsaw. However, if demand for office space is maintained at an annual average of 150,000-180,000 sqm, then it is possible that vacancy will increase, putting pressure on rents with vacancy put at 15 percent according to JLL.

However in two significant projects, AFI Europe Romania is developing the 50,000 sqm AFI Business Park Bucharest and Skanska is due to complete the first 19,500 sqm phase of the Green Court office complex in the fourth quarter after an estimated €46 million investment. The company has applied for a Gold LEED certification for the three buildings totaling 52,000 sqm. "We regard the entry of Skanska into the Bucharest office market as an endorsement of Romania," commented Sinziana Frangeti, Associate Director at Colliers Romania.

In the longer pipeline Globalworth Real Estate Investment plan to start construction of the €60 million, 130 meter Bucharest One Tower that will be the second highest office tower in the city. The highest tower in the city will be the 137 metre, 40,000 sqm Sky Tower by the Austrian Raiffeisen Evolution (RE). The tower and the adjacent 16,000 sqm Floreasca Office Centre are due to deliver in 2015.

Negotiations over Serbia's EU accession are supporting improvements in sentiment towards the country. Office supply in Belgrade remains at a very low 600,000 sqm. Almost 50 percent of this is Class A according to JLL. The latest new addition to the market was the 5,200 sqm Danube Business centre.

Pipeline is very limited and there is a resulting lack of space for potential tenants. Only 3,200 sqm of new supply expected to complete in 2014 with the completion of the Old Mill office and hotel complex. The renovation project by the Austrian Savavia Group will deliver the Radisson Blu Old Mill Hotel in addition to office space that has been received financing from the EBRD.

Only two other projects are in the pipeline, GTC as one of the few experienced Belgrade developers is constructing the first 10,000 sqm phase of a 27,000 sqm development. In another mixed-use development, Immorent are developing the Sirius office and hotel project.

On a positive note, the Dubai-based Eagle Hills group has released plans for the Belgrade Waterfront development that will deliver commercial, retail, hospitality and residential space on a riverside site. Construction of the first phase is due to commence this year and the project will include what is described as the tallest tower in the region. "Available office space in quality buildings is close to zero in Belgrade and this projects draws attention to the city," said Diana Klott, Managing Director of NAI-atrium.

Croatia has suffered from an economic downturn despite its EU accession. Total modern office stock in Zagreb stands at around 1.25 million sqm with a limited pipeline of as little as 24,000 sqm and a vacancy rate of 17 percent according to JLL. However pipeline is expected to increase in the coming year, although in a difficult business environment take up has been very low.
Source: Gary J. Morrell
Publisher: Gary J. Morrell