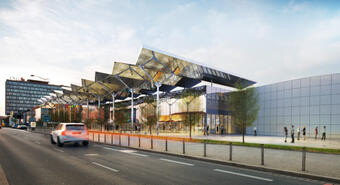 The first confirmed international congress, which will take place in O 2 universum, is the WFSA's 17th World Congress of Anesthesiologists in 2020 (September 5 - 9). "For a long time, we have perceived the interests of the promoter and the organizers who have come to Prague or Prague. directly to the arena we wanted to place attractive events, but there was a question mark about the corresponding space. We are pleased to be able to offer them a truly extraordinary space. The World Congress of Anesthesiologists will certainly be an exceptional event for O 2 universe, " says Schaffer .
"Anaesthesiology is the largest and basic field of medicine, and when in 2012 the Czech Society of Anaesthesiology, Resuscitation and Intensive Medicine succeeded in the candidacy for organizing the WCA Congress, another challenge was waiting for us - to find a suitable space in Prague that will be able to accommodate up to 8,000 participants, exhibiting companies and accompanying program. For most of the objects in question, we were struggling with insufficient capacity. That is why the project O 2 universum immediately addressed us, not only because of its variability but also its strategic location within the city of Prague. We are glad to be able to welcome our colleagues anesthesiologists from all over the world in this complex next year, " says Professor Karel Cvachovec, President of the Future World Congress of Anesthetists .
The world's leading anesthesiologists find the facilities within the complex, which is directly linked to the building of O 2 arena on the south side, situated on four floors and has a total area of almost 50,000 m 2. It will have up to 21 rooms of various sizes with a total capacity of 10,000 visitors . The largest hall with a capacity of up to 4.5 thousand people can also be used as a venue for medium-sized concerts and sporting events. There will be 13,000 m 2 of exhibition and commercial space available on all floors of the complex . As well as O 2 arena, the new congress center O 2 universum was designed by ATIP - architects Martin and Vladimír Vokatí.
" O 2 universum becomes a space for international congresses and conferences that have not existed in the Czech Republic yet. Thanks to the possibility to connect the complex with the existing O 2 arena on all four planned floors, we get space for up to 28 thousand visitors with plenty of exhibition space, restaurants of all categories and almost unlimited possibilities for any space arrangement according to the client's wishes, " says Schaffer .
At the same time, O 2 universum will serve as a venue for concerts. Although the space is only now being finalized, there are already the first concerts on sale, namely: On November 13, the Beethoven's 9th Symphony, performed by the Prague Philharmonic , will be performed in O 2 Universe. On December 7, a concert by the singer Ewa Farná and the Karlovy Vary Symphony Orchestra is planned, and a week later (December 14), she is featured in the National Geographic: Symphony of Our World. Tickets for events can be purchased at Ticketmaster.
Video presentation O2 universe
The construction of the hotel will start in a few weeks
As early as 2021, O 2 arena will offer visitors, promoters and event organizers an additional bonus: construction work on the new four-star hotel will soon begin in the area next to the hall. It will offer a capacity of 300 rooms, there will be seven conference rooms of 50-300 people, a hotel restaurant with 270 seats, as well as a fitness room and a café-bar.
"The hotel will grow in the immediate vicinity of the O 2 arena, just a few dozen meters, so the hotel's access to the lobby will be truly extraordinarily comfortable, hassle-free and fast," says Schaffer . "Every year, after building a congress center, we would like to get around one and a half million people on the total number of O 2 arenas and O 2 universe, so we perceive our hotel as the right investment."
The hotel should be completed and opened in the first half of 2021.
Source / photo: www.retrend.cz / Bestsport, as