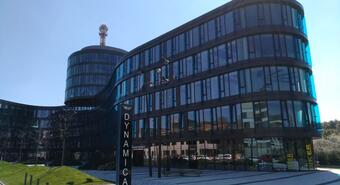 "By the end of 2020, we plan to operate premises in Prague in at least 7 locations with a total area of ​​more than 25 thousand square meters. In this way, New Work will further confirm the role of a major player on the Czech market, "said Hubert Abt, the founder and CEO of the company at a ceremony at Jinonice Dynamics .
" But we are doing well in other countries as well. In October, a new city - Lodz, Poland - will be added to our offer and in November we will open a new center in Krakow. This will gradually expand our scope from the current 7 cities and by 2020 we will be present in 12 cities in the CEE region , "he indicated further plans.
Flexible New Work Conditions
"I am very pleased that our concept of offering work space for larger companies under very flexible conditions has been successful and appreciated by clients. Our space in Dynamics brings a completely new combination of design and functionality at the same time. We have 86 offices with space for up to 300 workers, which is particularly suitable for medium and large companies. The premises can be freely separated and the layout of the client can be customized to have its own separate approach and design, including custom branding.
Unlike classic office space offers, our concept brings several huge benefits to businesses: complete flexibility - they can move in the next day after signing a contract - zero capital investment ahead and have the full service of our reception and customer team. In this way, companies can concentrate purely on their work because we take care of their offices. The premises are fully equipped and everything is paid as part of interim payments, " added Zsófia Toropila-Vakula, General Manager of the Czech branch of New Work .
Dynamica - New Work offices
Company New Work founded by German entrepreneur Hubert Abt 2012, when the company opened its first office center in Budapest, Hungary. Since then, the company has expanded its activities, currently operating in 5 countries of the region of Central and Eastern Europe (in addition to Hungary, Poland, the Czech Republic, Romania and Ukraine). Since its establishment, the company has grown in this region by 100% every year. New Work has been operating in the Czech Republic since 2018 when it opened its first office center in the Coral Office Park building in Nové Butovice, Prague. By the end of 2020, New Work plans to operate 50 office centers with a total area of ​​over 130,000 square meters, consolidating the position of the second largest provider of work space in the region.
The company has recently changed its form from a limited liability company to a joint stock company. It also increased its capital to EUR 10 million to finance further growth.
Source / photo: www.retrend.cz / New Work / Cover photo - Dynamica