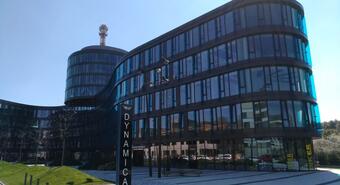 In New Dynamics, New Work will offer a total of 86 offices on the 1st floor in a total area of ​​more than 3,300 square meters . The offices have a capacity of 2 to 9 people and the entire floor accommodates 283 workers. The premises are suitable for companies of various sizes, as well as individual workers and there are also internet connection, multifunction printer or fully equipped kitchen. There are also 3 meeting rooms on the first floor, and New Work offers conference center facilities on the ground floor.
New Work - Dynamica, offices
The concept of serviced offices consists of offering workspaces with the possibility to have all the equipment and services provided by the provider - be it furniture, use of common rest areas and furnished kitchens, connection to a multifunction printer and internet or reception services including mail handling. In English, the term " plug & work " is used for this kind of service , because it is actually enough to bring only your computer to the customer and can start working almost immediately after signing the contract.
Company New Work founded by German entrepreneur Hubert Abt 2012, when the company opened its first office center in Budapest, Hungary, then it was called New Work Serviced Offices. Since then, it has expanded its operations to 5 countries in Central and Eastern Europe (in addition to Hungary to Poland, the Czech Republic, Romania and Ukraine) and now operates over 20 business centers. Currently, New Work is the second largest network of serviced offices in the region. It has been operating in the Czech Republic since 2018, when it opened its first office center in the Coral Office Park building in Nové Butovice, Prague.
Source / Photo: www.retrend.cz / New Work