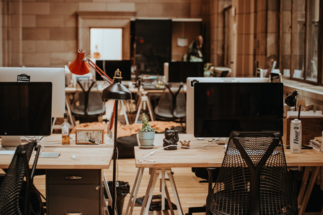 What is coworking space
Everything is explained by the literal translation of the word coworking, ie co-work. The coworking space is a shared workspace that previously served independent professionals, ie freelancers and people who worked remotely. Coworking space members work independently of each other. The concept of a shared workspace has already gone a long way, the first being almost thirty years ago, in 1989.
However, the term coworking was first used only thirteen years ago, thanks to the opening of the first joint office in the United States, specifically in San Francisco. In the Czech Republic, mostly in large cities such as Prague, Brno and Ostrava, we only met coworking premises later.
The coworking space is a shared workspace that was used primarily by freelancers, independent professionals.
Coworking and basic pillars
There are official coworking sites that define the four pillars of collaboration. They are community,cooperation, openness and accessibility. Indeed, freelancers are often isolated from the outside when they work at home and do not have the opportunity to come into contact with other independent professionals. In addition, they cannot concentrate at home and coworking spaces offer not only their own job, but also a place of concentration.
The basic pillars of coworking are community, collaboration, openness and accessibility.
This trend is followed by the Czech Republic
In our country, the first coworking spaces opened later. In 2009, the historically first shared workspacewas opened and since then many have been added. Particular numbers speak for themselves. According to CAPEXUS, the year-on-year increase in the area of ​​coworking space between 2017 and 2018 was 66%.
Not only freelancers, but also employees of small, medium and large companies have been working on these jobs for a long time . Some need a creative environment for work and companies can provide work in these premises as well as a corporate benefit . Moreover, shared office space is already being created in traditional office buildings.
Between 2017 and 2018, the number of coworking spaces in Prague increased by 66%.
Traditional players are not idle
So far, traditional employers can testify that this is a trend to follow . An example is the company Regus, which at the beginning of this year opened the center of its company in Prague's Holešovice. They will serve not only freelancers but also large corporations.
Not only for freelancers, but also for large corporations, traditional employers open their own coworking spaces.
Where can you find coworking?
Coworking is far from being a concept in Prague alone, but the benefits of many other regions can be enjoyed. Thanks to 77 existing coworking centers , Czechs can exchange traditional office space or home tables for shared spaces . The interesting thing published by CAPEXUS is that one fifth of the total is located in district towns such as Svitavy.
There are almost 80 coworking centers in the Czech Republic. This trend is no longer typical only for Prague.
Space joy to look
Coworking spaces are growing in popularity and it's no wonder. It often offers members more than classic offices can offer. Of course there is quality super fast internet and meeting rooms, which are equipped with various conveniences, including a quality projector and giant plasma.
Throughout the space, it is often the smell of coffee that the members can indulge in with an erotic coffee maker. Here, for example , they can drink in the design relaxation zones where they can spend their free time playing on a playstation. Larger shared areas even offer their own bistro, where members can refresh themselves and recharge their power to complete projects.
Quality coffee, design relaxation zones, super fast internet and meeting rooms equipped with much more than just basic office supplies. This is coworking.
It is also a community life
Coworking sites are also commonly involved in local communities. Coworking centers in Prague, as well as other cities, often hold various events and lectures. Some are even free and anyone who signs up for the event can come to them.
In addition, community life and services go hand in hand with modern technology in coworking spaces. Mobile applications are used for them. Everything becomes more convenient and efficient for members of these unusual office spaces .
Coworking centers operate not only for subscribers, but often for the wider community. People can take part in various events and educational lectures.
How much does this convenience cost?
The freelancers who use these services pay a relatively low price per month compared to the convenience and cost. In both Brno and Prague, it will pay CZK 2,900, while in other cities the membership in coworking areas will cost between 1,900 and 2,500 crowns. The reward is hi-tech offices and superbly equipped representative spaces that can be used for meetings.
As a rule, monthly membership is more advantageous and includes certain privileges. However, if, for example, employees of large companies visit shared spaces only a few times a month, they can use hourly rates.
Not only freelancers can choose between a monthly membership, with a number of benefits, and an hourly rate.
What are the main advantages
Vision recently opened co-working space PORT Karlin says more than it seems at first glance may seem: "Work by yourself: Be free from the rules and give space to his design ideas." The main advantage is, according to the founders of the port to the Freelancers and more members have peace and a nice place to work. It is also great, however, that many interesting people with admirable thoughts and opinions move around you.
Members can share creative ideas with each other, but also consult each other or establish collaboration or even friendship. Ideally, the first and then new clients can also be found in coworking premises. Despite the very quiet environment, it is unbelievable what energy is pulsing across coworking space.
There are several advantages of working in coworking premises. Peace and a pleasant place to work are just one of many.
For freelancers and entrepreneurs salvation
It turns out that coworking spaces are a salvation especially for freelancers and entrepreneurs. Especially after a long time, working from home with minimal interaction with the environment can turn into a synonym for "inefficient work". Subsequently, many may have a disabling postponement, ie procrastination.
Especially freelancers and entrepreneurs will appreciate the interaction with other members in shared work centers.
24/7
The big advantage of coworking is that subscribers can come whenever they like. And literally. Some are open nonstop. This will be appreciated especially by those who like to get up, or those who are used to working late. The independence that members receive will contribute to both satisfaction and overall work efficiency. At the same time, the good relationships that arise in these places are very valuable ...
Do you think of coworking spaces interesting? CAPEXUS helps to create many collaborative spaces . Check out the vacancies in this company and help implement other similar inspirational projects.
Source: www.vimvic.cz