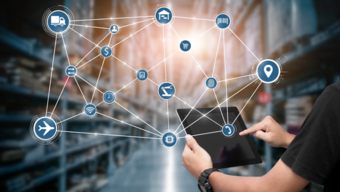 Vodafone Group serves over 100 million active IoT elements worldwide. It operates the services on its own NB-IoT network, which is intended purely for data transmission. Companies use it for online communication with their devices, machines or devices and for access to current data. It cleverly solves, for example, energy, building management, asset monitoring, production management and company fleet management.
Modern fleet
Technology allows companies to build their fleet on a modern basis. They significantly facilitate the transition to electromobility and automated corporate carsharing. For electric cars, the sensors can remotely monitor the condition of the batteries and control charging. If employees share a company car, they can easily find out in the application which car is being charged enough, they can unlock it by phone and set off immediately. The application can also assign the vehicle to them according to the required range and purpose of driving. "The system also records that the employee topped up the company car at home and that the company should add the appropriate amount to his paycheck," adds Jiří Zdražil, Vodafone Business's Internet Business Sales Manager.
Seat reservations and social distancing
Technologies are largely able to take over the management of entire buildings. Through the application, you reserve a parking space, a place to sit in a shared flexi office, a meeting room and an open space for team meetings. You can easily monitor the occupancy of offices to comply with current hygiene rules, and ensure the required social distancing. "You don't have to meet colleagues even if you need to hand over working documents or other materials. You simply take them to a specific locker and the application, which unlocks and locks the locker, will let a colleague know where to find them, "Jiří Zdražil describes the principle of shared boxes.
Even a normal building can be turned into a smart one with the help of a mobile application and installed sensors - no intervention in the current infrastructure and cutting into walls or floors is required. The smart building runs wirelessly on the NB-IoT network, the signal is available through several walls or underground.
Energy under control
IoT also helps companies save on energy costs. Sensors monitor water, electricity and gas consumption. They monitor whether it does not light up somewhere or does not heat unnecessarily, whether the air conditioning works properly, whether all doors or windows are closed, and vice versa where it is necessary to ventilate.
The IoT solution built on the global Vodafone Business App-Invent platform can optimize operations and detect inefficiencies in the long run, thanks to which the company can save up to 10 percent of costs per year. "Instead of estimates, he always has specific consumption data at his disposal, so he can make the right decisions and use the full potential of his office space," adds Otto Zeman, technical manager of IoT services for Vodafone's corporate customers. The sensors can also handle meter readings, saving technicians work.
Own secure network
But without a good secure network connection, none of this would work. A reliable company solution can be a mobile private network (MPN), which uses the same elements of infrastructure as public networks, but the company has it only for itself, ie for its building, office, warehouse, hall. dedicated to the customer and managed by Vodafone. The customer has ensured maximum security and quality of the wireless network. Only devices that they determine themselves are connected to the network, and there can be no interference or capacity utilization outside the defined range, "explains Otto Zeman.
Mobile private networks are used primarily by businesses that need to connect a large number of devices in the most secure and stable way possible. The ideal solution is, for example, for a manufacturing plant that uses hundreds to thousands of wireless devices, such as barcode readers, tablets or smartphones. Modern capacity- and response-intensive technology can be connected, such as remote-controlled cameras, automated vehicles, remotely controlled machines or virtual reality technologies. MPN handles large data transfers with very low latency. In terms of security and flexibility, it surpasses the connection via Wi-Fi and can compete with fixed networks.
Vodafone prepares individual tailor-made solutions and adapts to the customer's needs. It prepares everything from monitoring a single device to a comprehensive system for the entire company. "The customer no longer has to look for telecommunication service providers, programmers, server space and hardware separately. Vodafone will now take care of everything and offer companies a complete end-to-end IoT solution. From devices through connectivity to creating an application, "adds Viktoria Korabelnikova.