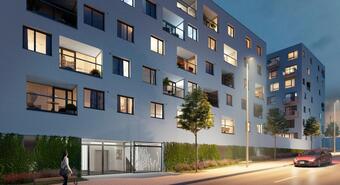 The first phase of the Nová Elektra residential project has a total of 92 flats, ranging from 1 + kk (25.3 m2) to family spacious flats 4 + kk of 115.6 m2. Ground-floor apartments also have private gardens.Garage parking and other storage areas are a matter of course. Commercial units will be built in the street parterre towards Poděbradská Street.
Finep - New Elektra, visualization
"Older industrial offices in the 43,000 square meter area will be transformed into a modern urban residential area with parks, playgrounds and business units in the coming years. Expected future investment costs within the entire construction site will exceed CZK 3 billion. We will not forget urban greenery, relaxation area and other urban furniture, " presents the future of the site Tomas Pardubice . The total number of dwellings and the date of construction will depend on the preparation process in connection with the approval processes.
Finep - New Elektra, visualization
"The Nová Elektra residential project will build on the history of this place. This is where the residential area combines tradition with technology and bears the impression of skill, knowledge and energy with which this site has been linked for 100 years, " says Tomáš Pardubický of Finep . FINEP in Prague 9 builds on its two very successful residential projects Nová Harfa and Harfa Park with the construction of more than 2,000 flats. These were complemented by commercial zones, city parks and playgrounds in the former brownfield factory.
Source / photo: www.retrend.cz / FINEP CZ as