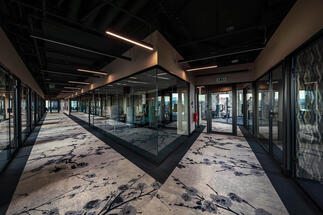 "Business Link gives me everything I need to do - a pleasant and diverse space for focused and creative work, first-class service and facilities that only give me the opportunity to solve my work, and the ability to meet smart and interesting people and colleagues at any time."
Jan Petr, programmer, Algolia
"Business Link meets all the requirements we have for organizing hackathons - innovation marathons that run two or three days in a row. We need perfect technical facilities, space for presentations, separate teams for team work and the opportunity to eat in the building and take a shower after a hard weekend. There are well-equipped studios including digital flipcharts, a pleasant lounge with a large projection area and, last but not least, the opportunity to relax on the roof of the building where you can find a jogging track. The advantage is also excellent transport accessibility. I can recommend Business Link as a well-equipped shared space in Prague for startups and corporations. A big plus is the girls management team, which is a pleasure to work with :-) "
Tomáš Studeník, owner of CEE Hacks
Business Link / Visionary. Photo: Jiří Šebek
"As part of the further expansion of SAP Group's ŠKODA AUTO Regional Competence Center, it focused on Prague. As a target site, the Visionary building won the premises on the fourth floor. New colleagues in Prague started to apply for jobs in February last year, so Prague's premises had to be solved quickly. In this respect, Business Link, which offered the necessary offices mainly for Prague colleagues, was suitable for us, so we could meet the needs of our employees. Business Link spaces are appreciated by all our colleagues and not only by our highly-regarded office, meeting and coworking facilities with first-class equipment. We especially appreciate the above-standard equipped kitchen and terrace with a wonderful view of Prague. "
Václav Němec, Deputy Head of FIC-SAP / IT Group Regional Competence Center, ŠKODA AUTO
"After six years of freelance, I finally found a coworker that makes sense to me. Business Link offers me a representative space for consultation and training, a healthy and quiet work environment, an interesting member community and a wide range of services. The great location is just an icing on the cake. "
Michelle Losekoot, digital storyteller, freelance, www.losekoot.cz
Business Link / Visionary. Photo: Jiří Šebek
"Given the focus of our company, it is very important for us to perceive all trends in modern technology. Naturally, you are choosing the most effective and at the same time the most pleasant form to absorb this information and where to get it. A clear choice is for us a workshop or seminar focused on some of the topics. It is Business Link that brings such topics. In itself, nothing revolutionary, but when you add an environment where you feel like in a boutique hotel, a modern technical background with a giant screen and an endless supply of quality coffee and sometimes interesting goodies, you can just conjure up an interesting line-up full of experts and practical demonstrations and the ideal event is in the world. They're about to do that, and I hope they won't stop doing it, just in Business Line. "
Jan Chalas, Data Scientist @ Statistica.pro , ArcIT Consulting Ltd.
PHOTOGALLERY: Virtual tour of Business Link offices in Visionary building
Photo: Jiří Šebek
Source: www.morethanoffice.eu