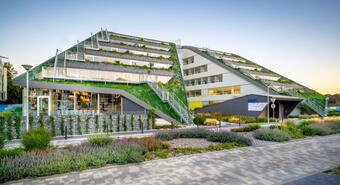 The 5th Open House Prague festival, which took place on the weekend of May 18 - 19, 2019, enjoyed record attendance. The organizers of the festival recorded 76,000 visits in inaccessible buildings. This year, the thematic category of office and residential buildings was newly opened, which, thanks to the use of modern technologies, is not only environmentally friendly, but also creates excellent conditions for building users. Green buildings recorded 3375 visits during the weekend.
"I am very glad that we have started to cooperate with the organizers of Open House Prague. There were 13 buildings in the category, of which 5 were Council members - Visionary, DOCK IN TWO, Amazon Court and the Red Court and Modřanka residential buildings. I believe that next year the category will be expanded by other interesting projects, " says Simona Kalvoda, Executive Director of the Czech Green Building Council (CZGBC) .
Visionary
"We started cooperation with Open House Prague with the Danube House already during the first year of this festival. This year we participated in the festival Amazon Court in Karlín and the Visionary building in Holešovice. These are exceptional buildings with the DGNB Platinum Green Building Certificate. LEED Platinum. Visionary as the first building in the Czech Republic boasts WELL certification. We are very pleased that we could make our buildings accessible to the public. Those who did not reach the open buildings can look into their lobby at any time on a business day between 08:00 and 19:00, " says Jan Baxa, Head of Asset Management at CA Immo .
"We didn't expect that so many people would be interested in seeing a modern office building in detail and seeing what measures were being taken to save the environment. The interest in visiting DOCK IN TWO was really enormous and convinced us that it makes sense to participate in the Open House festival, " adds Petra Holubová, Marketing Director at Crestyl .
In the selection of the green building category, there were not only administrative buildings but also residential buildings, which showed the visitors to the festival how a smart home can be equipped with control over a mobile application while offering its residents a healthy indoor environment. "The Modřanka Residence is our first BREEAM Very Good certification project. Open House Prague has given us the opportunity to familiarize the general public with all aspects of environmentally friendly construction of residential buildings and solutions that have been used in Modřany. We also appreciate the feedback we have made on our projects. During the festival, we also inaugurated a park Modřany Old Museum, which was founded in the courtyard Modranka, which builds on the significant events and personalities in the history of this district, " describesKarolína Dvořáková, Sustainability Coordinator from Horizon Holding .
HORIZON HOLDING - Modřanka Residence
Jan Řežáb, owner of the development company JRD also praises the participation in the festival : "Thanks to the close cooperation with the Czech Green Building Council, we decided to involve and introduce an energy-passive project called Červený dvůr Residence - a villa of fifteen apartments. Visitors thus gained a unique opportunity to see the application of current trends in the green building industry in practice and to ask everything that interests them. "
Source / Photo: www.retrend.cz / Hero & Outlaw, powered by McCann / Title Photo Dock-in-Two (www.klapper.cz)