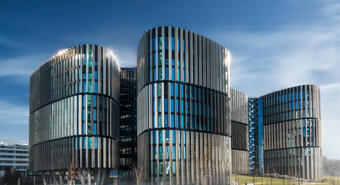 Mint provided investment advice in the transaction and will now be responsible for asset management of the building. Legal and commercial advice was provided to Dentons, respectively. Cushman & Wakefield. Arcadis (technical due diligence) and TPA (financial and tax due diligence) also participated in the transaction .
Mint Investments - Main Point Pankrac
Low energy building
The low-energy Main Point Pankrác building , which was developed by PSJ Invest , stands in the neighborhood of skyscrapers in one of the most sought-after office locations in the capital. It has 26,500 m 2 of office space and retail space on 10 floors and nearly 400 parking spaces on three underground levels . Its tenants include McKinsey & Company, Unipetrol, Dimension Data and ARVAL CZ. The building has an unmistakable expression that distinguishes it from the flat glass façades of common office buildings: it is based on a plan of five rounded triangles with a distinctly plastic facade.In addition, thanks to its special technology, it is the first building of its kind in the world to absorb smog and reduce emissions in the air - the effect is as if a park with a hundred trees were in place.
Mint Investments - Main Point Pankrac
Ecological building
The generous garden on the roof contributes to the ecological quality of Main Point Pankrác . Thanks to its features and architectural design from the DAM studio, it received a narrower nomination for the 2019 Czech Architecture Prize . It is in the footsteps of its older sibling, Main Point Karlin, who in 2012 won the prestigious MIPIM Awards and became the best office building in the world.
The acquisition was commented on by Sebastien Dejanovski, partner of Mint Investments : "South Korean investors have been very active on the Czech market in recent months, as evidenced by the fact that this January we acquired the Prague office building Florenc Office Center for another investor from the Republic of Korea. This was the first time in the domestic market that an investor from this country managed to successfully complete a premium property transaction. In the case of Main Point Pankrác, there are those who are among the best in their field: Hana Financial Investment has been at the forefront of the Korean capital market for more than four decades. She established the first ever investment fund in the country and developed a completely new investment banking culture. And the Main Point Pankrác building is one of the most modern on the Prague office market, thanks to which it aspires to the LEED certificate in the highest level of Platinum."
Source / photo: www.retrend.cz / Crest Communications, as