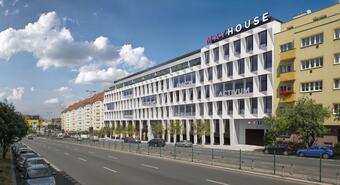 The new office building fills a gap between two houses on May 5th. " Due to its position on one of the busiest Prague classes, the building was very demanding. We are all the more pleased to announce her successful acceptance, " says Petr Beránek, Development Director at CPI Property Group . " I perceive the completion of Mayhous as a great success for everyone involved in its implementation," he adds.
The first tenants are already moving to modern offices. 4finance IT and Zaplo Finance, members of the global financial group 4finance Group, found their new headquarters here in May. "The project Mayhouse suits us not only backgrounds, but also located in the business most exposed part of Prague," says Vit Ruzicka, Managing patches Finance and adds: "We will consolidate the extra Czech group activities under one roof." The company 4finance IT is based in the offices of CPI Property Group has Since 2015, Mayhouse plans to spend at least the next 6 years. Zaplo Finance is a new client.
"In this project, we put emphasis on offices that will enable the most modern approach to work. As a follow-up to trends, we also focused on coworking facilities and facilities for active athletes, including our own fitness or exercise room. The building also offers a common terrace with a relax zone and extraordinary views of Prague and Prague Castle, " says Pavel Hain-Schmiedbers, Head of Asset Management at CPI Property Group . " We are pleased that this combination of tenants has been thrilled," he adds.
About the Mayhouse Project
The Mayhouse office complex is located in the most desirable administrative location in Prague 4, just a few minutes walk from the Pražského povstání metro station or Pankrác. Being on the high street, she is daily in the eyes of 100,000 passers-by and fulfills her representative function. In addition, tenants have the option of placing their company name on the facade.
Mayhouse offers not only office space on six above-ground floors and an area of ​​7,800 m 2 , which meets the demanding requirements of progressive companies, but also appropriate facilities. For relaxing moments, all employees have access to the outdoor rooftop terrace, where there is also a bar counter with beer tap and grill. There is also a coworking zone or facilities for athletes - a fitness room, an exercise hall or a bicycle room for those who prefer this mode of transport. Four car chargers also provide parking spaces.
Source / photo: www.retrend.cz / CPI Services, as