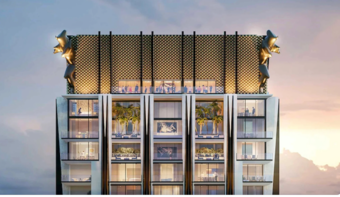 In the Czech environment of extremely complicated construction processes, it is a rather wild idea that a company focused on luxury and design would want to get into development. But it is a fairly common practice in the world. Above all, fashion brands are increasingly embarking on development projects that help them with income diversification, as well as visibility and marketing.
A prime recent example is the planned 90-story skyscraper in downtown Miami, scheduled for completion in 2027, which will significantly impact the city's skyline at nearly 1,000 feet. Behind its construction is the Italian fashion giant Dolce & Gabbana, which announced a few months ago that it would venture into reality.
As partners for projects in the USA, the brand chose Michael Stern's JDS development group, which is responsible for a number of expensive and luxurious high-rise buildings lining the lucrative south side of Central Park, for example, the super-slim New York skyscraper 111 West 57th Street on Billionaires' Row.
When completed, 888 Brickell will feature restaurants, bars, spas, shared offices or a huge terrace with a pool and views of Miami Beach. The price tag for the apartments is set to start at $3.5 million, with the most expensive ones going for more than $35 million.
In addition to Miami, Dolce & Gabbana is also embarking on the construction of residential and hotel properties in Marbella, Spain or the Maldives.
The fashion icon's focus on bricks is because she wants to expand the notion of "Made in Italy" beyond fashion. "When you go into a Dolce & Gabbana showroom and have a great suit tailored, you expect a high standard of service and care. We try to reflect this in our concept of residential projects as well," company CEO Alfonso Dolce told CNN.
But Dolce & Gabbana is not the only luxury brand investing in real estate in Florida. Armani has a skyscraper in Miami with a private beach, and car brands Bentley and Porsche, both owned by the Volkswagen Group, are building other residential towers along the coast. The second-named car company has already sponsored the luxury residential tower Porsche Design Tower in Miami.
And speaking of cars, the British car manufacturer Aston Martin will also make a mark on the Miami skyline, which plans to open the Aston Martin Residences project this December.
The sixty-six-story building promises penthouses with breathtaking views, private terraces, panoramic windows and plenty of the latest technology. All this wrapped in the typical elegance of the car company.
The most expensive apartment in the project is a triplex for 59 million dollars, with which the buyer also gets an Aston Martin Vulcan sports car. And at least judging by apartment sales here, there seems to be interest in combining real estate and luxury brands.
"It's not just about buying a property, it's about investing in the lifestyle that Aston Martin represents," explains real estate agent Jacqueline Reeves, who handles sales of apartments in the project.
But buildings associated with luxury brands are certainly not the domain of Miami, although it is busy in this regard right now. Dubai is not far behind. There, for example, the plan is to build the ultra-luxurious one-story skyscraper Burj Binghatti Jacob & Co Residences, which is to become one of the tallest residential buildings in the world.
As you might have guessed from the name, it is also behind the Dubai developer Binghatti and Jacob & Co, known for its luxury jewelry and watches. Clients will be able to purchase these in limited editions together with the purchase of the residence.
At the same time, brand hotels bearing the names Armani, Bulgari, Versace or Roberto Cavalli have been opening around the world in recent years. After all, Armani was one of the first luxury brands to enter the real estate market.
In 2005, Armani partnered with Dubai's Emaar Properties, resulting in the development of the Armani Hotel Dubai and Residences at the Burj Khalifa, the world's tallest building. The highly successful project featured 144 luxury apartments designed and furnished by Armani, including Armani Casa furniture and accessories.
Versace, in turn, ventured into luxury residences with projects such as Palazzo Versace in Dubai or Aria Ocean in Miami. Similarly, Bulgari has made a name for itself in the hospitality industry with its portfolio of hotels and resorts in destinations such as Bali, Dubai and Milan.
And for example, the French luxury brand Baccarat, known for its crystal glass and chandeliers, has partnered with Starwood Capital Group to develop the luxury Baccarat Hotel & Residences project. The building features sixty residences, each designed in signature Baccarat style, including custom chandeliers and crystal accessories.

But what motivates luxury brands to enter into partnerships with developers and lend their design and identity to development projects?
One aspect is income diversification. In addition, the brand name increases the value of the property and attracts wealthy clients, which is an advantage