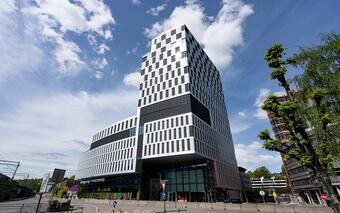 The creators of the project wanted to create a miniature city inside the building, in which residents will have everything they need to live under one roof. In addition to office space, the building also houses residential apartments, shops and restaurants.
How to combine user satisfaction with environmental demands and a modern look?
Protecting the interior from the sun while preserving the light - this is a common dilemma of all architects. However, it was not possible to use blinds or tinted glass in Orkla City, as it prevents the penetration of daylight even in winter, when the sun is most needed in cold Norwegian weather. Another important aspect was the energy performance of the building, in the case of using large glazed areas, it is crucial to find the perfect balance between thermal insulation and permeability.

Guardian Glass - Orkla City, interior
User comfort was also a big priority. The architects took into account their visual and acoustic comfort. In the Orkla City project, the surrounding nature of Oslo is very close. From the upper floors, the building offers nice views of the fjords on one side and the mountains on the other. In addition, there are train tracks and busy arteries in the immediate vicinity of the offices, and the use of proper glazing helps to ensure overall acoustic comfort. Residents of the building can perceive the surrounding environment and connect holistically with the outside world. At the same time, they remain in the comfort and convenience of modern interior architecture.
Unique dynamic liquid crystal glazing
The architects decided that Highly efficient triple glazing from Guardian Glass would be the optimal choice. The façade is composed of highly selective sunscreen offering high light transmission at a low g value in combination with laminated acoustic glass with a low emission factor, which further improves the Ug value and sound insulation. The facade helps prevent overheating during sunny days. However, since triple glazing cannot prevent glare caused by the sun, additional blinds had to be installed.
A separate chapter is the common cafeteria in the building, which is a place of meeting and relaxation. Blocking the view through the blinds and interrupting the natural air flow were thus out of the question. To solve the glare problem and further improve the g value without the need to install blinds, dynamic glass made of eyrise® liquid crystals was used on the west facade of the café.

Guardian Glass - Orkla City, interior
A grant from a government agency helped create a roof park with solar panels
In addition, the creators of the project wanted to implement innovative ecological solutions in the building, so they decided to apply for a grant from the government agency Enova. His profits have helped introduce several energy measures, including a rooftop solar park, which supplies energy to the building and is completely powered by intelligent energy systems.
Additional solar panels were built into the balcony railings, thus covering the unaesthetic technical elements on the lower green roof.