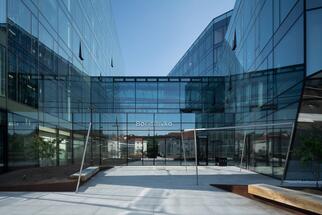 In the end, the vision of the investor KKCG Real Estate Group (KKCG REG) and the studio Aulík Fišer Architekti won, who in 2018 started building an office and shopping complex on a complex plot of land directly above the Bořislavka metro station. The complexities of the plot were not frightening, on the contrary, they drew inspiration from it. The geometry of buildings refers to it.

Today, after three years of construction, it is almost complete and the company from the KKCG group of entrepreneur Karel Komárek ceremoniously opened the Bořislavka Center, and on June 4, the first customers will also look into its shopping arcades. The investment in the project exceeded 3.5 billion. It is the group's largest real estate project to date.
"Crystals in Bořislavka are our biggest project so far and we are very proud of it. It is a valuable contemporary architecture that urbanistically completes this part of Prague 6, "says Petr Pujman, CEO of KKCG REG. "Although the pandemic hampered some work, I am glad that we managed to approve the construction on April 30. We will also fulfill the original plan and put the whole complex into full operation this year," he adds.
According to him, the pandemic did not stop the interest in renting. For example, office space is already completely leased. The new headquarters of companies from the KKCG group will also be located on thirty thousand square meters. Employees of KKCG, KKCG REG, Sazka, SAZKA Group, MND, KKCG Technologies and others will move to Bořislavek in the near future.
And in the autumn, companies such as Škofin, Pražská vodohospodářská společnost, IGT Czech Republic or MM&C will also move their offices to glass crystals. The complex also includes a shopping arcade of about ten thousand square meters.
Source: // Forbes