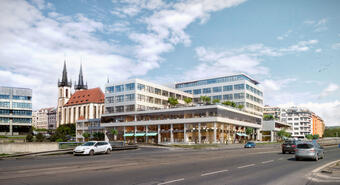 Thanks to its location close to an important transport junction and one of Prague's main roads, Bubenská is easily accessible by car and public transport. There is a metro station C Vltavská, tram and bus stop nearby. Within a few minutes you can reach the historical center of Prague and Ruzyně Airport.
Bubenská 1 - view to the center from the corner of Bubenská and Antonínská streets
Bright offices with flexible space layout
Thanks to the generous architectural design, the Bubenská 1 offices offer an extraordinary space experience and maximum working comfort.
Representative headquarters for large and small businesses
The building's buildings meet the highest demands of large companies and support the break-up of smaller ones. Of course there is a 24-hour central reception as well as alternative work areas and relaxation areas.
Modernization with respect to historical heritage
After the reconstruction Bubenská 1 will meet the highest technological standards. The works are carried out in cooperation with conservationists so that the unique architecture is not disturbed. A number of historical elements, such as a pair of paternosters, are also preserved.
Bubenská 1 - arrival from Argentine
Common spaces for mutual meetings
Get inspiration and share your ideas! The generously conceived common spaces of Bubenská support creative ways of working.
Varied range of services
The building includes shops, restaurants, wellness and cultural center. Many other services are easily accessible in the immediate vicinity.
The project is currently under construction and is scheduled for completion in autumn 2020
Source / photo: www.retrend.cz / CPI Property Group