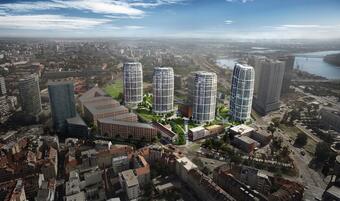 The Sky Park project is located in the former industrial zone near the center of Bratislava. In two phases, Sky Park will bring a total of six high-rise buildings to the Bratislava real estate market . The project envisages a minimum built-up area, which will create a new urban park of more than 30,000 square meters in the vicinity of the towers. The project also includes the reconstruction of the facade of the historic Jurkovičova heating plant, which is a national cultural monument.
Penta Real Estate - Sky Park in Bratislava
Part of the first phase is the construction of three thirty-storey residential towers , which will offer more than 700 apartments, 1,100 new underground parking spaces and 2,000 m2 of civic amenities. After the building permission was granted, the first phase of the project was officially launched at the beginning of December 2016. The first phase is expected to be completed by the end of 2019. A fourth tower with the same parameters as the previous three will be part of the residential project. Its construction will begin after obtaining all permits.
Sky Park in Bratislava - video HERE
Sky Park Residence
Apartments in three 31-storey residential buildings provide a brand new view of housing in the center of Bratislava.
Each of the apartments is individually designed with regard to its orientation within the individual buildings to make the most ideal use of every square meter of living space.
Penta Real Estate - Residence
In the second phase, the construction of two office buildings with a total lettable area of ​​more than 55 thousand square meters is planned. The start of construction of the second stage depends on the date of obtaining the building permit.
Sky Park Offices - Offices with great views for you and your business
Sky Park Offices will offer flexible, functional workspaces of the highest standard, designed in accordance with the concepts of well-being, with the help of modern technology and the best of contemporary architecture.
Real Estate - Sky Park Offices
They will provide everything you need at an efficient workplace. Your corporate culture will thrive in an environment that meets all your requirements.
Sky Park Jurkovič Heating Plant
Jurkovič's heating plant will become a unique space combining cultural and artistic events, workshops, markets, a café, a restaurant and shared workspaces where everyone is welcome. Co-working spaces will become a home for startups, freelance creatives, bloggers, floggers, new ideas and everyone else who wants to join.
Penta Real Estate - Sky Park Jurkovič Heating Plant
The exceptional industrial premises of Jurkovič's heating plant will come to life as a multi-purpose space. The message of the past will continue to inspire current trends in working and cultural life. Unique co-working spaces with the latest equipment are the ideal environment for interpersonal interaction and creative growth.
Source / photo: www.retrend.cz/PENTA REAL ESTATE