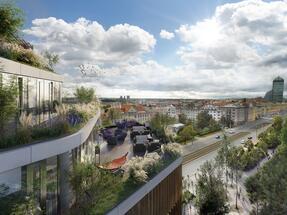 As part of the Hagibor project, a total of five residential houses are gradually growing, together with six administrative buildings. Everything connects the square and the central pedestrian boulevard with shops and restaurants, which leads from the exit of the metro. The cost of the entire project will exceed nine billion crowns.
"After DOCK, this is our next major project, which uses the symbiosis of housing, offices, shops and services in one place. That's why we carefully solved the concept of the whole district and, together with the architects, we place a huge emphasis on public space, in which we plan to plant up to two thousand trees and shrubs. Its concept is managed by the most important landscape architect of today, Michel Desvigne. He combined all this into one harmonious whole, which connects the outdoor space with the needs of future residents and office tenants, "explains Viktor Peška, Crestyl's sales director.
Newly started constructions: offices and flats
The first stage of offices, in which, in addition to Crestyl, EP Real Estate also participates, includes two buildings right next to Vinohradská třída, which will offer 31,000 m2 of space for rent on a total area of ​​over 13,000 m2 - more than 28,000 m2 of offices and 3,000 m2 for shops and services. On the ground floor of buildings with eleven and nine floors, respectively, there will be spaces for shops, restaurants and services, the upper floors will offer offices of a high standard, which include large terraces with views of Prague on the receding floors. "The first confirmed tenant of the administrative part of the Hagibor project is the Czech News Center media house, which will occupy almost 12,000 m2 of offices here and move its headquarters here. We are negotiating intensively with other tenants, "says Viktor Peška, sales director of Crestyl.
In addition to offices, construction began on two residential buildings. The Gamma apartment building is located next to the recently approved Alfa and Beta residences in the eastern part of the new Hagibor district at Počernická Street. Gamma will offer 138 apartments from 1 + kk to 5 + kk, more than half of which are already sold. As one of the highest locations in Prague, Hagibor brings its inhabitants unique views from balconies and terraces, which seem to grow into treetops and become part of them. Each apartment has a balcony, terrace or front garden, the largest terraces offer a relaxing area of ​​up to 110 m2. The fourth Delta residential building is growing along with the Gamma building. It will offer 168 apartments for rent, and the entire apartment was bought by the investment company Invesco Real Estate before construction began.
Unique location
The Hagibor project is growing on the border of the desired residential districts of Vinohrady and Strašnice, at the end of Vinohradská třída near the metro and tram station. In the immediate vicinity there is an extensive sports complex. All civic amenities are in the vicinity, in addition, another range of services, shops, cafes and restaurants will be a direct part of the project. Of course there is a connection to city bike paths. The center of the new district will be a public space, which will be a natural place for meetings and various events due to its location.
Emphasis on urban planning and architectural solutions
Two international architectural studios have joined forces for the Hagibor project - Bogle Architects and Ian Bryan Architects (IBA), which together have created an airy and bright space that will make any house stand out and offer a balanced combination of design and functionality. In addition, Crestyl also involved the world-famous landscape architect Michel Desvigne - who deals with the large public space, which makes up a quarter of the entire territory. Desvigne is the author of urban solutions, public spaces and parks around the world, for example in Paris, Tokyo or Detroit. Everything is solved smartly and with respect for the environment.