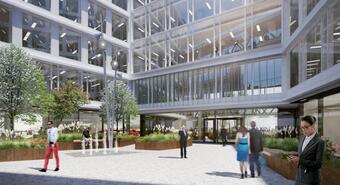 These companies have brought together a focus on modern technology and the future of digitization that will change the future of the labor market. This will be significantly influenced by databases based on blockchain (distributed ledger technology (DLT), automation based on artificial intelligence and smart contracts in the coming years.
Blockchain: a modern database across disciplines
Because blockchain technology will significantly alter a large number of industries in the coming years, SAB Aerospace, Space Systems Czech and Cape free have established the first Czechoslovak blockchain accelerator. He will help private companies and state institutions to implement artificial intelligence and blockchain. The first Czechoslovak blockchain accelerator will develop its activities in Prague's Business Link Visionary coworking center . "Blockchain is going to succeed in many fields in the foreseeable future. Applying finds in banking, FinTech tools, logistics, healthcare, food, or car industry.
Visionary
It can help in tracking the movement of goods within the production and logistics chain, "says Petra Hubačová, country manager of Business Link CR , and adds: " If we talk about the practical use of blockchain, in the Czech Republic, for example, the vehicle register would benefit significantly. On a European basis, it could help monitor the movement of meat and other commodities so that consumers are not threatened with harmful or infected meat in shops. Ways to apply blockchain in practice it is much more - it is the technology of the future. " And Daniel Štefl CEO of Space Systems adds:"The application of a fixed database in logistics is obvious. Currently, it can help to track commodities as meat and contribute to a significant supply chain transparency. At the same time, if we add data analytics to machine learning, that is, artificial intelligence, we can easily prevent the emergence of dual quality foods. However, a constant database and clever contracts can be used, for example, to digitize and streamline healthcare. But the use of blockchain has no fixed boundaries, for example we are launching a project to use blockchain on space satellites for the European Space Agency. "
Blockchain: a better way to confirm new changes
"Building blockchain databases will create new jobs for a large number of Czech IT professionals in the coming years. More and more people have heard of blockchain, but most still do not understand what makes this new technology so revolutionary, "says Petra Hubačová, country manager of Business Link ČR , on future changes in the labor market .
" Blockchain is a subset of DLT technology. Its main advantage is the creation of decentralized digital databases with a trusted transaction verification system. Clarified, the validation of new transactions in any database does not arise from one central authority, as is customary today, but by all or at least most of the participating nodes. Therefore, any change in the database is valid only after all subscriber nodes have it, or at least most of them, depending on the chosen consensus mechanism, "explains Daniel Štefl , adding:"Blockchain is an essential innovation that we will hear more and more often. Although the construction of new blockchain-based systems is conditional on initial investment. Even so, it is worthwhile, because more efficient processes and increased reliability over systems with one central authority will lead to cost reductions, higher profits and replacement of routine operations, for which it is already difficult to find workforce. "
About Business Link
Business Link Visionary in Prague's Holešovice district offers flexible office rental and coworking solutions. It creates a professional background for both corporate teams, small and medium-sized businesses and freelancers. It offers 4,500 square meters and 600 jobs, meeting rooms and an event venue. Business Link selects high-quality and exciting locations for its offices, located in emerging neighborhoods and on major transportation hubs that are easily accessible not only by car but also by public transport. Skanska is behind the network of premium offices. More information HERE .
Source / photo: www.retrend.cz / Allmedia4U sro / Skanska as