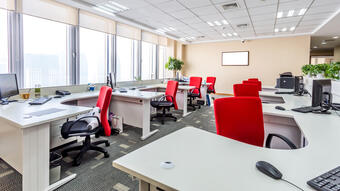 In its "Office FiT" survey, Savills analysed responses from over 100,000 office workers, owners and occupiers of office buildings across EMEA (Europe, the Middle East and Africa).
More than half of respondents would like to work in the office at least three days per week. The strongest interest in working from home full time was expressed by workers aged 55+. There was a weaker preference for remote working from the youngest respondents (24-35 year olds), which may be due to difficulties with learning at the early stage of career development outside the workplace, say the report's authors.
This year's edition of "Office FiT" is the second in a row. In comparison with last year's survey, the proportion of workers believing that productivity is higher when working remotely has fallen from 48% in 2020 to 40% in 2021. Additionally, many more people would work from flexible offices in the future (an increase from 3% in 2020 to 12% in 2021).
"18 months into the pandemic, both companies and employees now have quite extensive experience of remote working. We have had an opportunity to learn about its many advantages and drawbacks. One thing is certain - offices must change, because their users have different needs now. Looking forward, the quality of workspace is expected to be a key consideration for employers as it will be a factor helping them to stand out and attract and retain top talent," says Jarosław Pilch, Head of Tenant Representation, Office Agency, Savills.
74% of respondents expect lower levels of unwanted background noise on return to the office. According to Savills analysts, video conferences are here to stay with us post-pandemic and will increasingly include workers from home and the office. This is likely to cause discomfort to colleagues unless there are sufficient audio/video call facilities provided.
Personal safety was a top priority in a work environment for close to 80% of respondents. This is likely to translate in office buildings into minimising the exposure to viruses and bacteria through the use of touch-free technologies. As the hybrid work model is expected to become commonplace, Savills also anticipates an increased demand for collaborative office space.
"No matter how the pandemic unfolds, some hybrid working will stay with us for longer. In the huge metamorphosis of the work environment, we are witnessing, employee preferences must be balanced with business demands. As some employees gradually return to the workplace, the office will, in the coming months, play a pivotal role by providing space for integration and collaboration. It will help meet the natural needs of many employees that were left unfulfilled for long. I am confident that the changes that organisations will introduce in their offices and work models due to the pandemic will enhance the office experience," concludes Jarosław Pilch, Savills.