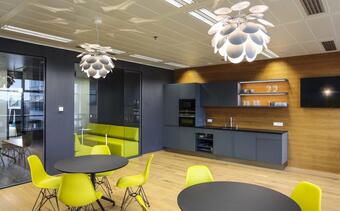 The main role is flexibility
As technologies and businesses evolve more and more to new models of work, these trends are reflected in the requirements for workspaces. Not only freelancers and start-ups, but also large companies are increasingly using co-working places for their employees . That is, office space equipped with all the necessary technology and connectivity that shares multiple entities and shares the cost of operating them.
AH - realization of office space of IT company Showmax
Another model used to share work space among multiple employees is regular home office rotation with work in a common office. According to Andrey Hylmarová, it is no exception that companies want to be able to respond flexibly to the current market situation and to adapt their offices to different employees. Workspaces should respond to this and be as variable as possible.
Clarify who the office will be for
When choosing equipment, it is also necessary to think about the type of work that the employee will do. Other requirements have a sales representative who spends most of their time on meetings with clients and another IT specialist who will be sitting in front of two or more monitors most of the time . Positioning tables are currently very popular for programmers and other IT professions. The designer considers quality ergonomic chairs to be absolutely necessary. "I have experienced a number of times when an IT employee took the same chair in a home office as a generous employer had to offer him,"says Hylmar .
Feel free to tell us exactly what you want
If you are a company that boasts a unique corporate culture, do not forget to arrange the interior of the work space in the same spirit. This will create an environment in which your employees will feel good even during unwanted overtime. In turn, your business partners will not doubt what your business is about. In the middle of the offices there can be relax zones for informal quick meetings , but also for relaxation and entertainment.
AH - realization of office space of IT company Showmax
And as Hylmar reminds, it is not just about the company logo and colors. If you say about your company that you respect playfulness and creativity, your office interior should match that . According to the designer, such a job is working much better than with a generally defined request for a "modern meeting room".
Think about basic equipment
You should also pay attention to the kitchenette and dining area. Often, these parts can become an informal meeting place. For example, consider how many things have been solved successfully with a coffee machine. Therefore equip them with high-quality appliances designed for higher loads and do not forget to separate these parts from the offices with eg a glass wall. This will prevent noise and unpleasant odors that could interfere with your work.
When arranging offices, you should also think about window shading. But avoid the classical blinds by arching. "Choose rather modern textile materials with appropriate parameters such as permeability to light, heat and acoustic properties," reads a recommendation from Hylmarová .
AH - realization of office space of IT company Showmax - telephone booths
Modern open space offices have a thoroughly solved acoustics. Of course there is a choice of suitable material for the floor, but it also works with the wall surfaces for which wooden, cork or textile tiles are chosen. Partitioning acoustic elements are used - eg luminaires or screens, some employers also install so-called acoustic booths where a phone call can be handled or a quick appointment can bemade.
Nowadays, modern offices can be one of the factors that can help you get ahead of your competitors in the eyes of potential employees. If you are interested in the subject of trends in the workplace in general, you have a great opportunity to learn more about it at Workspace Summit in Prague at the end of November.
Source / photo: www.retrend.cz / nedori sro