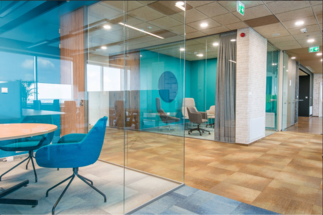 The last decade has brought several changes in the design of office space, either due to the spread of modern technology or the growing popularity of coworking. What will change the coronavirus pandemic? Providing space for individual employees in open space offices may seem impossible. So does this mean that companies will completely back away from them? So what will safer offices look like and work with?
Partitions, screens, and other ways to divide space
"We don't think that companies will now be confusingly converting open space into individual offices, that will certainly not happen. It is also possible to prevent the spread of viruses in much less demanding ways than by rebuilding offices, "says Petr Bořuta, marketing specialist at CAPEXUS.
Thus, the physical division of space, which will provide employees with protection against the spread of viruses, does not necessarily result in a reduction in the function of offices. As a solution, modular spaces equipped with well-spaced screens or partitions are offered so that the rooms can be divided as needed. A plexiglass sheet is also suitable if you need frequent contact with clients.
"It is possible that we will encounter less open space. For example, one of our clients wants to halve the designed offices so that there is a maximum of 12 employees in each room instead of the planned 24, "adds Jan Andrle, the architect of the CAPEXUS company, which deals with the design and implementation of tailor-made offices.
Transmission of viral diseases can take place despite indirect contact with shared surfaces, so landlords continue to adhere to strict hygienic conditions and regular disinfection of premises. Non-contact devices are also installed more: taps, paper towel dispensers, or soap and disinfection dispensers.
Above all, the HVAC must provide fresh air
According to available studies, humidity or temperature does not have much effect on the spread of the virus, at least if they do not move to extreme values. For HVAC, it is necessary to focus primarily on a sufficient supply of fresh air.
Recuperation exchangers are indispensable when it comes to saving energy. Unfortunately, they contaminate the supply air from the outside with the exhaust air from the office, and therefore there is a risk of increasing the concentration of infectious substances in the supply air.
"During a pandemic and the flu season, it is therefore advisable to operate air handling units without the recuperation exchanger switched on - ventilation works even without it, but the energy intensity is significantly higher if it is heated or cooled. In summer or winter extremes, the air handling unit must be designed for these conditions," says Antonín Krejčík, Senior Project Manager of HVAC from CAPEXUS.
The same applies to systems that use exhaust air circulation, which at this time needs to be operated as 100% fresh air. Ventilation should work in buildings (if possible) around the clock, i.e. overnight and on weekends when no one is working
Lessons from medical facilities
Inspiration can also be sought in medical facilities, which must actively prevent the spread of infections constantly. It can be assumed that there will be a higher use of metals with antiviral effects, such as copper or brass. Their presence is especially suitable in places where there is indirect contact between people. It is also worth considering visual markings, such as circles on the floor, which define the personal space of employees. These elements can be elegantly incorporated into the design. For example, the rings may be part of carpets.
Hybrid collaboration and the importance of the office as a headquarters
Many companies have already tried remote operation and have not seen a drop in productivity. However, part employees in the office and part in the home office can only work effectively if companies invest in technology, especially video conferencing systems. In the future, we can expect an increase in the scope of cooperation at the expense of individual workplaces.
"Everyone at the home office lacked human contact. What we have been promoting for a long time has been confirmed: offices should be designed as headquarters, as places where company culture flourishes and know-how is shared," said Apolena Weiss at the hybrid conference" The future of (collaboration) from anywhere ".
References:
Lukáš Benzl, Petr Bořuta, CAPEXUS. Jak se mění kancelářské prostory v době pokoronavirové? Tzbinfo.