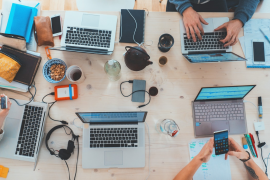 Unique employee benefit
A four-day working week is no longer a science fiction, and it is becoming a reality. Who would not want full wages for four-fifths of normal working hours? Can employers also benefit from this benefit for employees? What are the benefits of working four days a week? Three days long weekend is definitely something that many employees long for.
Meal vouchers, a Multisport card and additional insurance already offer a number of companies. And they are undoubtedly, as well as being able to work from home, flexible (flexible) working hours or part-time jobs, very popular. Companies must present a competitive advantage to jobseekers and current employees in the current labor market crisis in the form of a shortage of workers .
A four-day working week becomes a reality and can be a clear competitive advantage in the struggle for employees.
A trend called work-life balance
What, besides the lack of staff, prompted companies to include a four-day working week among the employee benefits offered? Increasingly speaking, we are talking about improving the quality of life and work-life balance , ie the balance between spending time in work and leisure activities.
Thus, some companies resort to offering four working days, or a five-day working week to a total of 32 hours, an average of 6.5 hours a day. Right now, it is now believed that such a different length of working hours will make employees better organize their work, be effective and meet the set goals even in shorter working hours.
Four-day working hours can be a guide to improving the quality of life and the balance between spending time at work and leisure activities.
Disadvantages of four-day working hours
A part-time job with unchanged pay conditions only makes sense when the company sets clear rules . Less time spent at work must not mean less work. It's definitely not that a four-day work week prohibits any breaks at work . Conversely, with properly set rules, it leads to higher performance, satisfaction and concentration.
The disadvantage of this system of work, however, is undoubtedly the fact that the customers of the company have to get used to the four-day working week and accept that they are not working in the company on Friday.
The four-day working week is still not common and business customers will have to get used to it.
Absolute success
Are we still not convinced that something like this can work in real life? Let's imagine an example from practice. New Zealand's Perpetual Guardian has experimented for a four-day working week for two months and has identified the project as an absolute success . She had been monitoring the results all the time and the numbers were talking about everything. 78% of employees found work-life balance, which was 24% more than before.
A 7% decrease in stress has been reported, employees have been more motivated, have more appetite, and productivity has also increased. In addition, employees have designed a range of innovations, including automation of manual processes.
New Zealand's Perpetual Guardian has introduced the four-day work week for two months and has described the experiment as an absolute success.
The four-day working week is the future
The union's general secretary in England and Wales has even recently said that the ambition of this centuryshould be to push through a four-day work week. According to her, and many others, the technological shift has created a new wealth.
The technologies we share with each other bring the possibility of a four-day working week with a decent salary. In addition, according to trade unions, people are most likely to benefit from this benefit. Reducing working time through technological advances should reduce workplace stress.
In a four-day working week, unions from England and Wales are also fighting for the future.
The number of working days has changed historically
What was the development of work and working time ? The generations ahead of us have never heard of the work-life balance concept and barely enjoyed a one-day weekend.
When did the six-day working week end ? It is about half a century when employees were given the opportunity to enjoy a five-day working week and a two-day weekend. To forget the six-day work week was a logical step for many companies. Workloads and working hours vary in many companies. The standard is even and odd week, two-shift operation , five-day working week.
But over the last fifty years, there has been no substantial transformation of working time . But technological and social development clearly shows that we are ready to move on. And what about you, would you appreciate a four-day working week?
About fifty years ago a great revolution came. The six-day working week has become a thing of the past, and a new two-day weekend was the standard.
Four-hour working week
Do you feel that you would not be able to solve your short-time working agenda? Or do you not know how to behave on the first day of work that offers this benefit? Then we have a great book tip for you that will convince you of the benefits of pay but also of time . Timothy Ferriss wrote a four-hour week in which he presents the value of money.
How to have enough money, but also new wealth , time and mobility? This famous book, which has become a bestseller, is definitely worth reading.
How would you appreciate a four-day work week and in your opinion outweigh the advantages or disadvantages?
Source: www.vimvic.cz