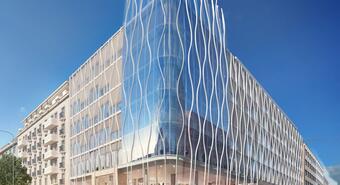 A modern multi-purpose project combining 21st century design with state-of-the-art technology is located in the heart of Old Prague's historic business center, Wenceslas Square 47. Upon completion in 2020, it will offer almost 15,000 square meters of A-class office space
and 6,000 square meters of high-quality retail space .
The appearance of the corner building is inspired by the idea of ​​energy streams, which rises up its facade and builds on the developer's long-term goal of protecting and developing the wealth of Prague architecture.
The Flow Building
James Woolf explains what's behind the new building name: "Prague has established itself as one of Europe's leading cities. There are investment flows, major business transactions, a city of talent, new technologies, ideas and creative ideas from around the world. Our goal was to capture the spirit of this continuous cycle of the city, its 'flow', in our new building on Wenceslas Square. At the same time, it becomes the pinnacle of our ambition to create a new iconic architectural legacy, set a new environmental standard and complement the Prague urban heritage accordingly. In our opinion, the name 'The Flow Building' sums up all of the above in a memorable way. "
The Flow Building - interior
During the last 25 years of successful investment in the Czech Republic, Flow East has focused on refurbishing premium historic buildings and modern construction. Flow East owns a portfolio of first-class commercial and residential properties and luxury hotels . He is a long-term investor owning and managing all his properties.
About Flow East
Flow East as a long-term private investor owning a portfolio of prime commercial, retail and residential real estate in Prague and in adjacent areas with a total area exceeding 200,000 m 2 . The company has been operating in the Czech Republic since 1990, when it was founded by current owner James Woolf, a British citizen with Czech roots. The company's current flagship project is the construction of a new first-class office and retail facility, "The Flow Building", in Prague's Wenceslas Square, worth CZK 2 billion. The Building Flow provides users with three floors of retail space and seven floors of energy-efficient, sustainable office class A, all on 2500 m 2 floor area on each floor, in a new iconic building with a roof terrace offering views of Prague Castle.
Source / photo: www.retrend.cz / BEST Mediální společnost, sro