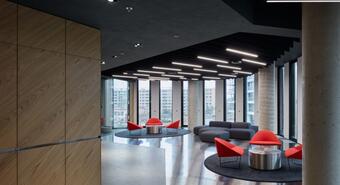 "It occurred to us to interconnect two contradictory measures. Microscopic and macroscopic. For the organism to develop properly, its individual cells need to divide, grow and specialize. In the universe we see an infinity of opportunities and visions. It leaves plenty of room for imagination and creativity, " says Martin Stára, partner and founder of Studio Perspektiv .
Studio Perspektiv - EOH IT Hub in Prague
"We were inspired by the key features of both scales. The idea of ​​micro- and macro-world penetration has been influenced by the occurrence of organic shapes and inorganic surfaces, the use of semi-transparent walls and the choice of an almost extraterrestrial color palette, " adds Jan Antal, partner and author of the project .
Multicellular organism
Massive anthracite honeycombs are coming down from the concrete ceilings. It divides the space according to its importance and function into irregular chambers of various dimensions. The superstructure of the honeycomb is complemented by crystalline forms of meeting rooms and technical facilities . Their forms freely follow the basic order of space. From time to time, they step out of it somewhere, stretch or twist here and there. The floors, raised in places, sort large areas into auditoriums and stages, cafes and kitchens. EOH offices are a cluster of cavities, chambers, partitions and cells, a petri dish of flowing space.
Space yacht
Reflections, transparency, reflections, mirroring. The main role is light and its properties. Thin line profiles, which are installed not only in common areas and roads , but also in meeting rooms and some workplaces, multiply in the stainless steel floor and black glass areas. In some places they sip into a soffit ceiling, in some places they create a soffit ceiling. Meanwhile, the glitter of perfect shape shines on the bar.
Studio Perspektiv - EOH IT Hub in Prague, bar
The 45-degree oak veneer embarrasses gravity and partially simulates freedom of movement in a weightless state. Kitchen cabinets are designed to withstand the impact of cosmic bodies . The sheets of annealed steel are precisely connected to each other, the material is spotless - its abstracted essence remains. The door opens to the touch, the handles are superfluous.
Large-format stainless steel floor panels were treated with a water jet to create a solid metal level. Glazed partitions with frames embedded in floors and ceilings leave the room maximum transparency. Due attention was also paid to the exposed ceilings, cabling and technological wiring are precisely arranged, followed by a grid of luminaires and follow the edges of individual honeycombs .
The project of the EOH offices confidently views the everyday routine. Thanks to close cooperation with the client, the authors managed to realize a work that has more meanings and goes beyond the profane typological category of "office."
Used products and design solutions, cooperation
tiles, doors, stainless steel floor, custom-made concrete spatula: Brick / www.brickpraha.cz stainless steel bar and atypical furniture: Brick / www.brickpraha.cz glass partitions: Verti / www.verti.cz Fixtures: Flos luminaires: Tom Dixon Furniture: Arper / www.arper.com Furniture: B&B Italia Furniture: Andreu World / https://www.andreuworld.com/ Furniture: Moroso Diesel / https://www.andreuworld.com/ Furniture: Emeco loose carpets: Boca Carpets: Interface & Meash Rubber flooring: Nora Noraplan work furniture: Herman Miller
Realization, architect
Architect: Studio Perspektiv sro Author team: Ing. Ján Antal, Ing. Martin Stára Cooperation: Ing. Eva Schilhart Faberová, Ing. Barbora Babocká Project: 2018 Realization: 2019 Surface: 1 300 m 2
Source / photo: www.retrend.cz / www.linka.news/Jakub Skokan and Martin Tůma from BoysPlayNice