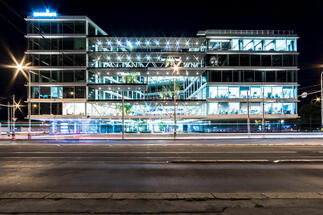 The air is heavy, your brain's not thinking, your head's nodding in fatigue. Just about everyone has experienced this in a classroom or at a meeting inside a closed-up meeting room. The cause lies in the high CO2 concentration in rooms with poor ventilation.
And indeed, when a building interior has bad air quality, insufficient ventilation or poorly regulated air is the reason. This can have a negative effect on building users' health, for example through an increased risk of the development of asthma, allergies, or other respiratory system diseases," warns Petra Ivaneková, an accredited specialist in LEED and Well international environmental certification at Optimal Engineering.
TESTS AND SENSORS
Volatile organic compounds (VOC) also negatively impact air quality. These can be released by furniture or a building's structural elements. They subject the people in a workplace to health problems. And a number of studies have found that these employees then have poorer work performance.
So how can you tell if a building has reduced air quality? First, through expert testing of the air for the presence of various harmful elements. That primarily means VOC – solid particles of inorganic and other gases.
"Locally, you can put a CO2 sensor in the building – mainly in spaces with high concentrations of employees," Ivaneková describes. The sensor may be automated – directly connected with the HVAC in the building via an M&R (measurement and regulation) system. Real estate developer Skanska, meanwhile, sets a limit of 800 ppm for the CO2 concentrations in all of its meeting rooms, and if this limit is exceeded, fresh air intake starts automatically.
New meeting room inside the renovated office of KPMG in Prague
OPEN THE WINDOW?
One less user-friendly option here is alarms. These alert occupants to high CO2 concentrations via a noise or light signal. This lets them know they should open a door or a window to let fresh air into the room. However, this can also bring in automotive emissions, smoke, or noise.
Also, opening the window only makes sense in certain weather, as Daniel Štys from the Cushman & Wakefield real estate services company notes. When it's below freezing outdoors, too much dry air enters the room.
"The air warms up once it's inside, and so the relative humidity might drop to 10 percent, which is too low, and then people's membranes dry out, forcing them to blink a lot," says Štys. Although some offices use humidifiers, in his opinion these just attempt to do what the ventilation system should really be doing instead. And meanwhile when people open windows in the steamy summertime, the air that comes in is too humid.
Not even the usual fan-coil-type HVAC units truly solve problems with high CO2 concentrations. "Fan coils just chase around the air that's inside. They warm it up, or cool it down, but the CO2 doesn't leave the room," Štys notes.
Visionary aims for the WELL certification as the first office building in the Czech Republic
A SIGN OF QUALITY
An international Well certificate is one way of showing proof that an office's interior, including its air, is health-safe. No office buildings in the Czech Republic have this certificate yet, but that will soon change. The investors for four office buildings in Prague are striving to acquire this certificate. Three of them these buildings have been built or are being built by Skanska Property. Their Visionary office building, in Prague's Holešovice district, is the first applicant for this certificate.
International experts came to Visionary in January and evaluated the building's shared spaces only – its reception, hallways, stairwells, etc. – as a part of the grading process. (Why only these spaces? Because Skanska cannot vouch for how individual tenants will furnish their offices.) "The hardest part was meeting the air requirement, with which the quality of the materials incorporated into the building closely relates," says Eva Nykodymová, EHS & Sustainability manager at Skanska Property.
Meanwhile, it's not enough to merely show their quality "on paper." "These measurements check the real-world air concentrations inside. They cannot be tricked," Nykodymová notes. The experts also do such things as taking water samples and checking whether the building has proper markings denoting that smoking is only permitted at a distance of at least 7.5 meters from the building, Visionary's ground floor contains a pre-school, and a playground is also nearby, and Well thus also helps to ensure that its children and teachers don't have to breathe in smoke.
MOLD-FREE FILTERS
"Proving that all of a building's materials have low or no VOC emissions is very difficult," states Petra Hajná, property manager at Skanska Property. And this is due to both finances and the fact that the investor must carefully choose certified building materials only. She says that this is especially difficult for coats, paints, glues, and putties. And meanwhile this doesn't mean other materials are necessarily poorer – they simply aren't certified.
But acquiring a Well certificate isn't the end of the process. "Once per quarter we need to send the Well Building Institute photos of the ventilation equipment," Hajná says. These photos should make it clear that the ventilation equipment's filters are exchanged regularly and are free of mold.
"Everyone is happy to hear about things that directly affect them. People spend 10 or more hours per day in buildings, and we guarantee for them that they can spend that time in a healthy environment," says Nykodymová.
What is Sick Building Syndrome?
The term "Sick Building Syndrome" was introduced in 1984 by the World Health Organization. Estimates show that it appears in the majority of office buildings, especially those with heating and cooling systems. Its effect on people is to cause irritation of the eyes, nose, and skin, nausea, headaches, sleep disorders, and more. Ultimately, it makes employees' work less efficient.
(source: morethanoffice.eu)