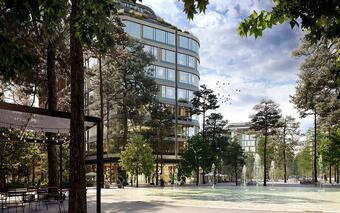 The quarterly analysis of the international consulting company BNP Paribas Real Estate also offers encouraging numbers. Despite the uncertainty caused by the pandemic, over 90,000 m2 was leased in the first quarter of this year, of which 41,000 m2 were new leases. Due to the fact that 90,000 m2 of modern offices are to be completed for the whole of this year, the demand could double the new supply twice.
"The result of this year's first three months is actually a pleasant surprise. All the more so because tenants can choose from completely new office buildings, unoccupied older buildings and about 100,000 m2 of other tenants in the form of the sublease, "comments Lena Popova, head of BNP Paribas Real Estate.
The flexibility of developers can be seen in the volume of new offices that will be completed this year. The decrease in transaction activity had a direct impact on the supply of new office space. In order to avoid a jump in vacancy for newly completed buildings and pressure to reduce rents, they slowed down the implementation or postponed the start of construction of a number of projects. After all, no new building was completed during the first three months, not counting the completion of the reconstruction of the Holečkova 26 and BDO Building buildings near the Budějovická metro station. According to the consulting company, over 90,000 m2 of modern office space is to be delivered to the market both this year and 2022.

SKANSKA - port7
"Although the vacancy rate has been growing in recent quarters and rental activity has slowed, rents in Prague remain stable. In the city center, the highest rent is between EUR 22.5 and EUR 23," highlights another positive aspect of the first quarter, Kamila Breen, head of consulting and market research at BNP Paribas Real Estate.
According to the consultants, the impact of Covid-19 is most clearly seen in the slowdown in relocations, even in segments that are objectively successful and even expanding economically. As all the effects are far from over, companies prefer to negotiate contracts in existing premises.
The more restrained the office market in Prague will be by the end of 2022, the greater the expectations relating to 2023 and beyond. At that time, several very ambitious projects with a capacity of over 250,000 m2 will be completed. These include, for example, the next stage of Waltrovka, Masaryčka, Port 7 in Holešovice, Hagibor or the introductory blocks of Rohan City.
Source: // Retrend