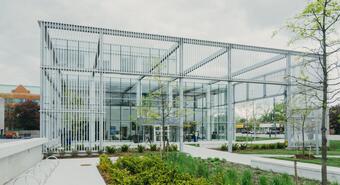 Natural environment
The main idea when building or modifying gardens and green areas is mainly minimalism and easy maintenance. The emphasis is therefore placed on the selection of unpretentious plants that do not necessarily require regular or complex care. For example, tall grass is a trend that will give gardens a surprising dynamism and the magic of tropical marshes . But their maintenance is very easy and will survive virtually everything: dry, wet and too little or too little sun.
On the other hand, the furnishing also takes into account what grows in the area, what is happening in the locality, so that the new greenery naturally fits into the environment. Imitation and refinement are avoided and materials such as wood, stone, metal, and concrete , ideally local materials that are acknowledged in the garden, are playing a major role .
Hedges and walls
The hedges and living walls bring a unique element to the exterior and dynamics with the right choice of wood. For example, if the space allows it, the flowering trees that have the fruits will bring the desired effect. During different seasons, these areas offer a different spectacle, changing the overall appearance. Among the fruiting shrubs, for example, rose hip or sea buckthorn has been popular recently.
Also suitable are deciduous trees such as hornbeam, beech or maple. If you do not want deciduous trees, choose evergreen conifers, such as cypresses or thousands. In addition to the aesthetic aspect, keep in mind the choice of maintenance. Each tree grows differently quickly and requires individual care.
Location of lawns
Classic lawn is one of the most challenging areas. "Care and maintenance of the lawn is expensive and time-consuming. Often, conventional lawns are dropped and grassland remains only in places where it really finds use and its maintenance is not very demanding, especially on flat surfaces, " says Branislav Janoščík, SSI Group's Cleaning Specialist. for office buildings and large buildings.
So it is ideal to focus on soil comparisons and to make pebbles more difficult to place or pave them instead of a new lawn and place a bench or garden furniture here.
Ecology is green
Gardening assistants are increasingly involved in the maintenance of greenery, which are the least burden on the environment. "A suitable option for mowing grass is a mower with a cordless drive that combines the main advantages of both motor and electric mowers - independence from power supply, ease of operation and operation, simple maintenance and relatively quiet and environmentally friendly emissions-free operation," says Petr Tichý specialist from Hecht . In addition to lawnmowers, other garden machines, tools and tools are becoming increasingly popular in acoustic variants.
Source / photo: www.retrend.cz / ASPEN.PR sro