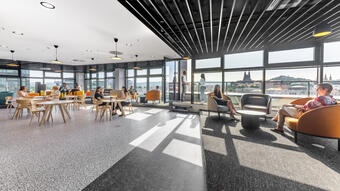 "It is an important milestone in the development of our company. In 2004, we started out with 100 people at our Brno branch, and since then we have grown to become the largest Zebra branch in Europe. This year alone we have expanded our ranks by 10% more than last year and we expect this growth to continue in the years to come. That is why we have decided to invest in the future of our employees by moving from four different buildings to a brand new and much larger office space in downtown Brno," said Ivo Knoflíček, Finance Director at Zebra.
In total, CTP provided the company with over 7,800 sqm of office space, of which just under 700 sqm is outdoor space. The building has also received the prestigious BREEAM In-Use certificate at the Excellent level, which means it meets the highest sustainability standards.
"The new premises for Zebra are among the most modern offices on the Brno market. In addition to the great views of Brno, employees can enjoy many coworking and resting areas. We have equipped the offices with a gym, a café and three outdoor terraces," says Jiří Kostečka, who is responsible for office development at CTP.
40% of the company's employees come from almost 40 different countries outside of the Czech Republic, and most of them live their lives in downtown Brno. "We are convinced that the easy accessibility of the workplace by car and by public transport will make the new location even more attractive for our employees. The atmosphere in the workplace encourages cooperation and we believe this is a way to attract new talent," concludes Knoflíček.