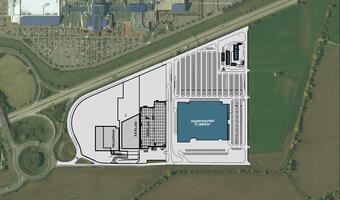 The project is designed in the northeast corner of the Modřice cadastral area, north of the existing sports goods and furniture stores ( Decathlon, Moebelix, XXXLutz ), in areas that are partly used for agricultural production.
The affected areas are bordered by the D2 motorway from the west. The eastern border is formed by a flood barrier, over which the Ivanovický stream flows. From the north of the area concerned, it is adjacent to land used for intensive agricultural production. The southern border is made up of existing department stores ( Decathlon, Moebelix, XXXLutz ) and their parking lot, respectively. area roads.
Modřice Shopping Center - location of the project within the wider area
Hypermarket
The main object of the sale is the sale of food goods and other complementary goods (industrial, domestic, etc.). Rental units for retail sale will be located in the building and will be leased to small businesses as part of the building's commissioning. Currently, operators are not known. From the experience of similar objects, it can be specified that it will be a tenant, such as the sale of newspapers and magazines incl. tobacco, pharmacy, fashion, books, flowers, etc., or small food-processing establishments.
In the main building will be located food production of the main operator - bakery and meat production. In the framework of the project, a restaurant operation and a café will be implemented.
The project also includes the construction of transport infrastructure, ie the realization of the area roads following the previous stage and the extension of the car parks by approximately 1,220 parking spaces for the needs of the hypermarket.
The scope of the investment project
The total area of ​​the project is 86 813 m2 Reinforced areas 32 220 m2 Areas of fuel station incl. Accessories (washing line, washing boxes) 1 245 m2 Green areas 18 348 m2 Built-up area of ​​hypermarket 17 890 m2 Number of parking spaces: 1 220 (cars)
Estimated start date of the project
Start of construction IQ / 2020 Completion of construction and start-up of IV Q / 2022
Source / photo: www.retrend.cz/EIA (Amec Foster Wheeler Ltd.)