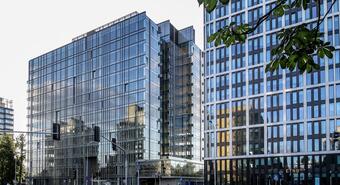 CPI Property Group plans to acquire high-quality office space in the center of Warsaw worth more than EUR 800 million. Future acquisitions concern eight office buildings with a total area exceeding 235,000 m 2 . She has even signed letters of intent, including exclusivity clauses, for properties valued at more than EUR 700 million.
The value of individual transactions will be between EUR 30 million and more than EUR 200 million. It is anticipated that most transactions will be concluded by the end of 2019, with an overlap with the beginning of the next. The first two of the planned acquisitions, Green Corner A (fully occupied property with 15,000 m2 of lettable area (GLA) and LEED Platinum certification) and Equator IV. will be signed in the coming days.
CPI Property Group - Green Corner, Warsaw
"The CPI Property Group has a very experienced team in Poland and existing properties are showing great results," said Tomáš Salajka, Head of CPIPG's Acquisition, Business and Asset Management , adding: "The office market in Poland is very strong, strength of the Polish economy and excess demand from domestic and foreign tenants. The acquisition of selected properties will ensure attractive returns and long-term value for the CPI Property Group. "
Other opportunities
On the real estate markets in the Czech Republic and Berlin, a period of strong demand and limited supply of real estate at attractive prices continues. Although focusing primarily on the acquisition of office properties, the CPI Property Group does not lose sight of other investment opportunities in the regions in which it operates.
Impact on the Group's portfolio and financial profile
The Group's acquisition strategy is based on its financial policy. This focuses primarily on rating increases while maintaining a high level of financial flexibility. The acquisition in Warsaw will increase rental income and the number of certified "green" buildings in the Group's portfolio. Real estate in the Czech Republic and Berlin will continue to account for more than 70 percent of the total portfolio, while the Polish share is expected to rise to at least 10 percent.
Financing strategy
The CPI Property Group is able to easily fund planned acquisitions through cash and undrawn revolving loans, which currently amount to EUR 1.5 billion. In the area of ​​further financing, the Group prefers to issue senior unsecured bonds, including potential green bonds, depending on market demand and prices. In addition, the Group is ready to consider potential secured and unsecured bank loans with attractive rates.
Source / photo: www.retrend.cz / CPI Services, as