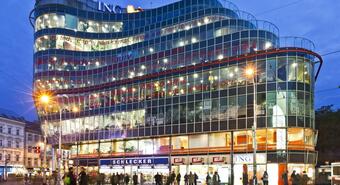 "The year 2018 was exceptional for CPI Property Group. Real estate markets continue to perform exceptionally in the Czech Republic, Berlin and Central and Eastern Europe, " says Martin Němeček , CEO , adding :" We were able to ensure an increase in occupancy and rent, bringing record income to the Group. By massive refinancing, started in 2017, we succeeded in transforming our capital structure while at the same time establishing ourselves in the international capital markets. We do best in history. "
The main economic indicators in 2018 include:
Total assets amounted to EUR 8.3 billion (an increase of EUR 0.7 billion% compared to 2017) due to higher real estate valuations, mainly in Berlin and the Czech Republic, and acquisitions worth EUR 290 million. Total revenue was 604 mn EUR (up 17% from 2017), thanks to the combination of the 2017 and 2018 acquisitions and 4.9% increase in rental income from like-for-like. The occupancy rate for the entire portfolio rose to 94.5% at the end of the reporting period (up by 1.7 percentage points more than at the end of 2017). Funds from operations (FFOs) rose to 164 mn EUR, up 29% from 2017. The EPRA's net asset value (NAV) rose by 14% to EUR 4.5 billion. Net debt-to-value ratio, LTV, fell to record 36.7%. Credit Rating Boost: New S&P BBB rating, Moody's Baa2 rating upgrade, and A-Japan new Credit Rating Agency rating. A successful $ 550 million hybrid bond subscription in May 2018 under the EMTN bond program. EUR 840 million of senior unsecured bonds, denominated in Euro, Swiss Francs and Japanese Yen, during the fourth quarter of 2018. Debt and collateralised loans of subsidiaries worth about € 1.5 billion, which has simplified the funding structure and improved credit metrics. The proportion of unencumbered assets reached a record high of 65% at the end of 2018, compared to 43% at the end of 2017. The secured debt ratio declined from 59% at the end of 2017 to 37% at the end of 2018. Significant improvement of net interest coverage ratio (net ICR) for 2018 to 4.2 ×, which only partly reflects the effect of early repayment of high coupon subsidiaries bonds. In 2018, the Company increased its financial flexibility through two-year revolving credit lines of EUR 230 million. In March 2019, these credit lines were replaced by a new three-year revolving loan of EUR 510 million. In the first quarter of 2019, CPI Property Group further strengthened its presence on the international capital markets by issuing senior unsecured bonds denominated in Hong Kong and US dollars under its EMTN program, and subscription of senior unsecured Schuldschein debt instruments. With new bonds, Schuldschein and a new revolving loan, the Group has liquidity of over one billion euros at the end of the first quarter of 2019.
"Although we are proud of our achievements, CPI Property Group is definitely not lagging behind. We will continue to focus on the long-term performance of our properties and the satisfaction of not only our tenants but also the communities in which we operate, " says Martin Němeček and continues: " What is most important, we will continue to invest in the basics of all our activities - our local teams whose members do their best to work daily. I have no doubt that by working together we will secure a successful year for the group. "
Source / photo: www.retrend.cz / CPI Property Group / Cover photo - administrative complex Zlatý Anděl